With COVID and all that jazz, we recently realized that we overlooked posting the 2021 Senior Class work so we thought before THIS year's seniors graduate, we want to make sure we recognized the class of 2021 and all of their achievements.
At the end of each school year, we ask our capstone PJ436 students to select one photo that means the most to them from their time here at WKUPJ and to tell us something about the image. We also have linked their capstone projects and portfolios. We hope you spend some time with the work of these talented alumni, it is no easy feat to earn a degree from WKUPJ.
---
Autumn Alexander
Atlanta, Georgia | Photojournalism major, Entrepreneurship minor
INTERNSHIPS
Tennessee National Democratic Party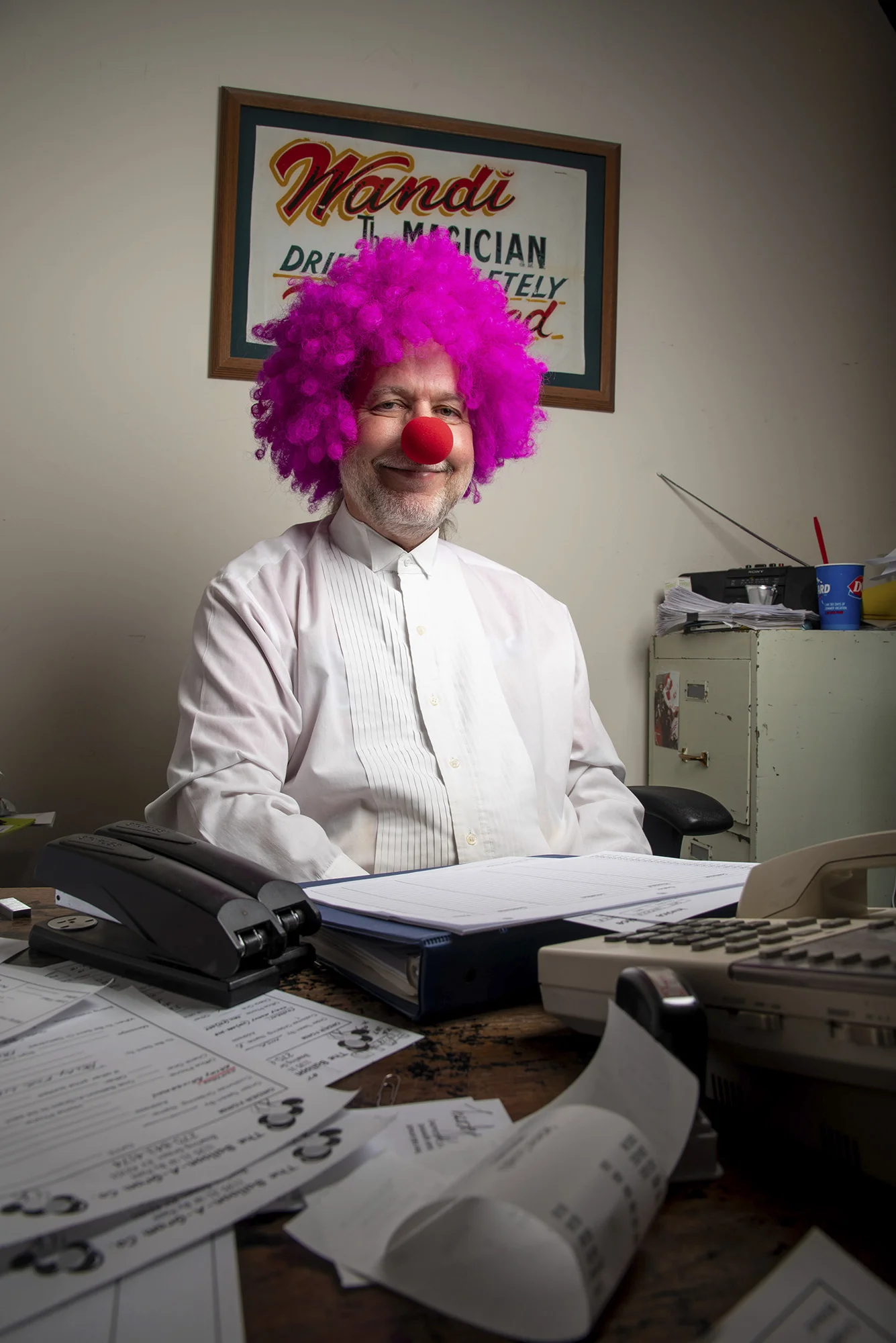 ABOUT THIS PHOTO
This image is about humor and not taking life too seriously. The day I took this photo I was really stressed out and I wanted my lighting to look perfect. Being that I was stressed out, my subject, Broadway the Clown, could probably sense that and decided to put on the pink clown wig for my portraits. This was a really fun shoot for me. I got to take pictures of Broadway in the wig and I also got a chance to present my project in the same wig as well. Photojournalism and college, in general, has taught me that there is a time and a place for everything. Sometimes it is okay to just let loose.
ABOUT AUTUMN'S TIME AT WKU
WKU has made me a better me. Prior to attending WKU I was a shy, timid person that may or may not have been scared of her own shadow. Now I am coming into my own, the young woman I always knew I could be. I am proud of what I have accomplished as a Hilltopper, but a little sad that I have to move on to the real world. However, I know I can always come back and see my WKU family.
AUTUMN'S CAPSTONE PROJECT
Unfiltered Love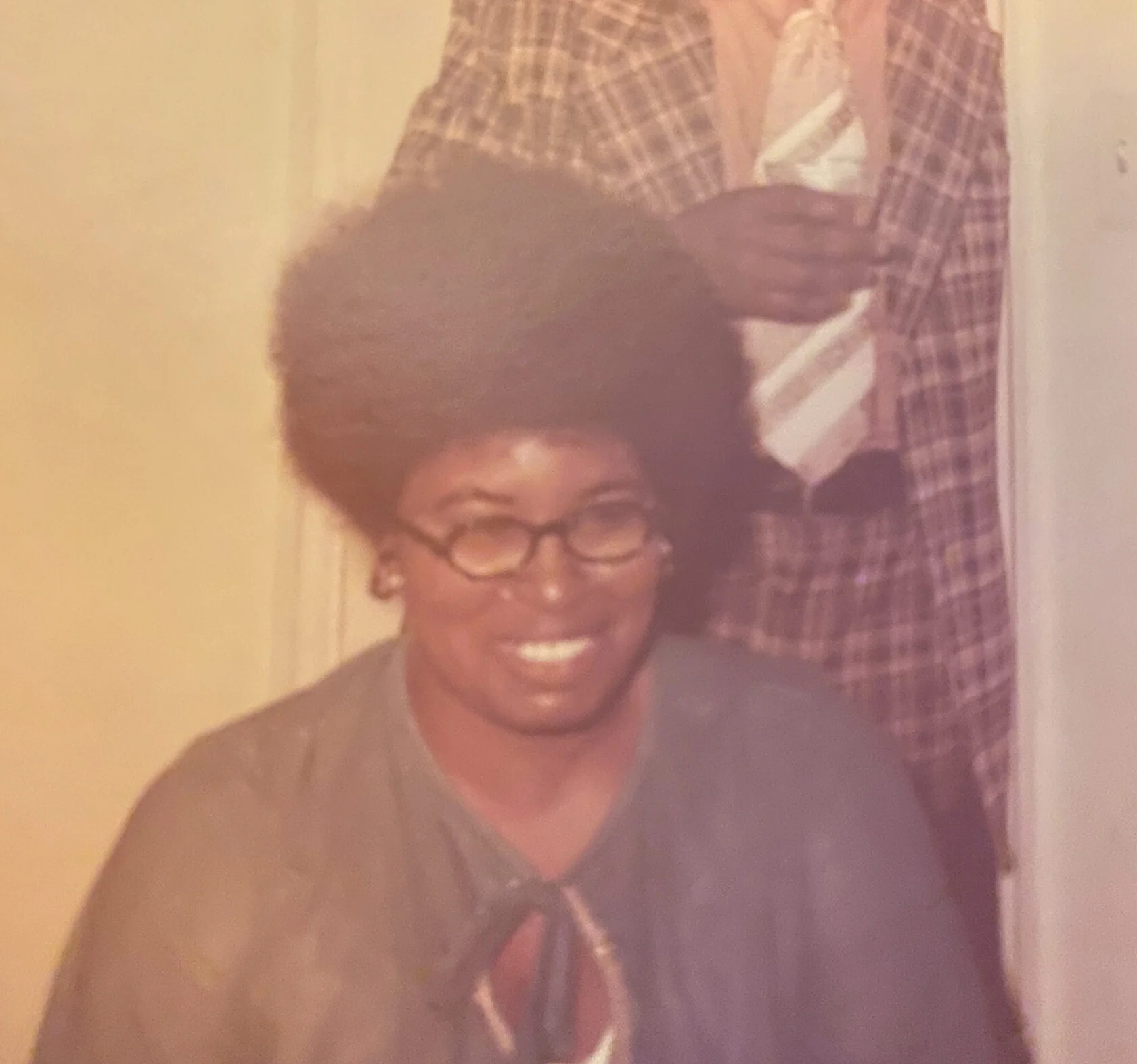 ABOUT THIS PROJECT
A family recounts on their mother and grandmother having renal failure, a disease that takes lives in the black community all too often. They tell their story in hopes that their loss will inspire others to tell their story and take charge of their health. If their story can save one life then it would have all been worth it.
Visit Autumn's capstone project
---
Grace Armes
Hodgenville, Kentucky | Photojournalism major, Entrepreneurship minor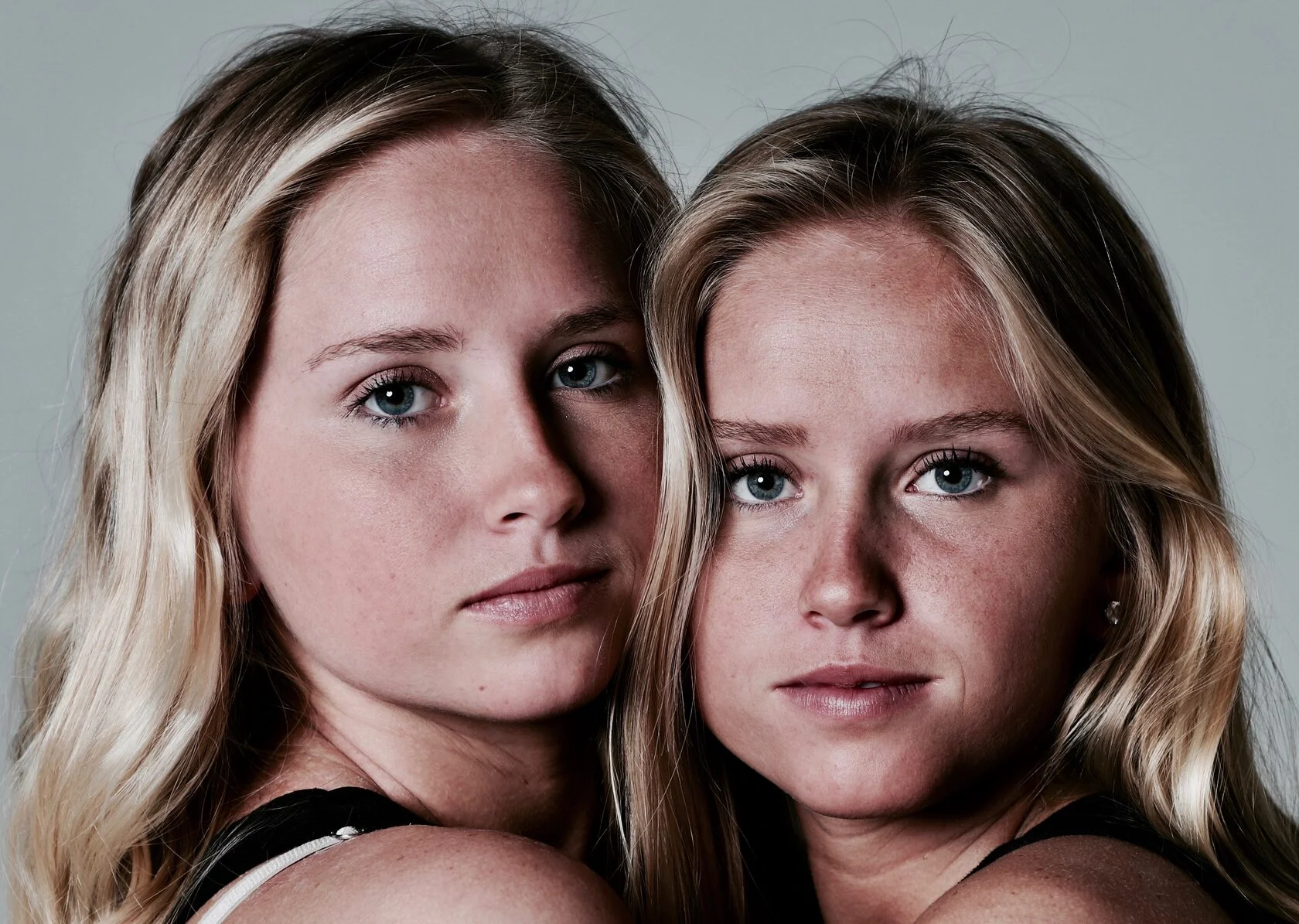 Annie and Abby Burd are 19-year-old identical twins from Bowling Green, Ky. They have grown up together and left their hometown together to attend the University of Alabama Huntsville on soccer scholarships. They are spending their last weekend together before Abby moves back home to Bowling Green, and Annie stays at school in pursuit of her soccer career and degree. This will be the first time in their lives that they will be living apart.
ABOUT THIS PHOTO
This 2018 image was taken from my final portrait series in PJ 333, Intro to Lighting. For my final project in this class I decided to do a portrait series on twins because I was a twin myself. I wanted to collect twins of all different types to photograph. Boy twins, boy girl twins, girl and girl twins, I even found a mother of twins that was also a twin for this story! I always had the idea of doing this story before I had even come to college because it represented a part of who I was. Having a girl twin sister is a huge part of my life and I wanted to share that.This is a photo of Annie and Abby Burd. At the time, they both attended The University of Alabama Huntsville on Soccer scholarships. This was taken the spring of their sophomore year in college and Abby had made the decision to move back home and Annie wanted to stay in Alabama. This was the first time in their lives that they would live in different places. Today, Abby is in Cosmetology school here in Bowling Green, Ky. and Annie is in her senior year at the University of Alabama Huntsville. 
ABOUT GRACE'S TIME AT WKU
WKUPJ has meant so much to me! As a senior, I am so glad that I gave every single project, even if I only had to turn in one single photo, my all. This led me to asking my peers for help, gaining friendships. It led me to use the gear checkout, learning with classmates on what gear would make the project its best. It led me to spending long nights in Jody Richards Hall franticly editing videos the night before the project was due. (whoops) But as a senior, I have realized that this is what makes up the college experience. Living and learning and using your experiences to become a better photographer at the end of it.
GRACE'S CAPSTONE PROJECT
Learning Curve: A Kindergartner's perception of public school effected by the 2020 COVID-19 pandemic.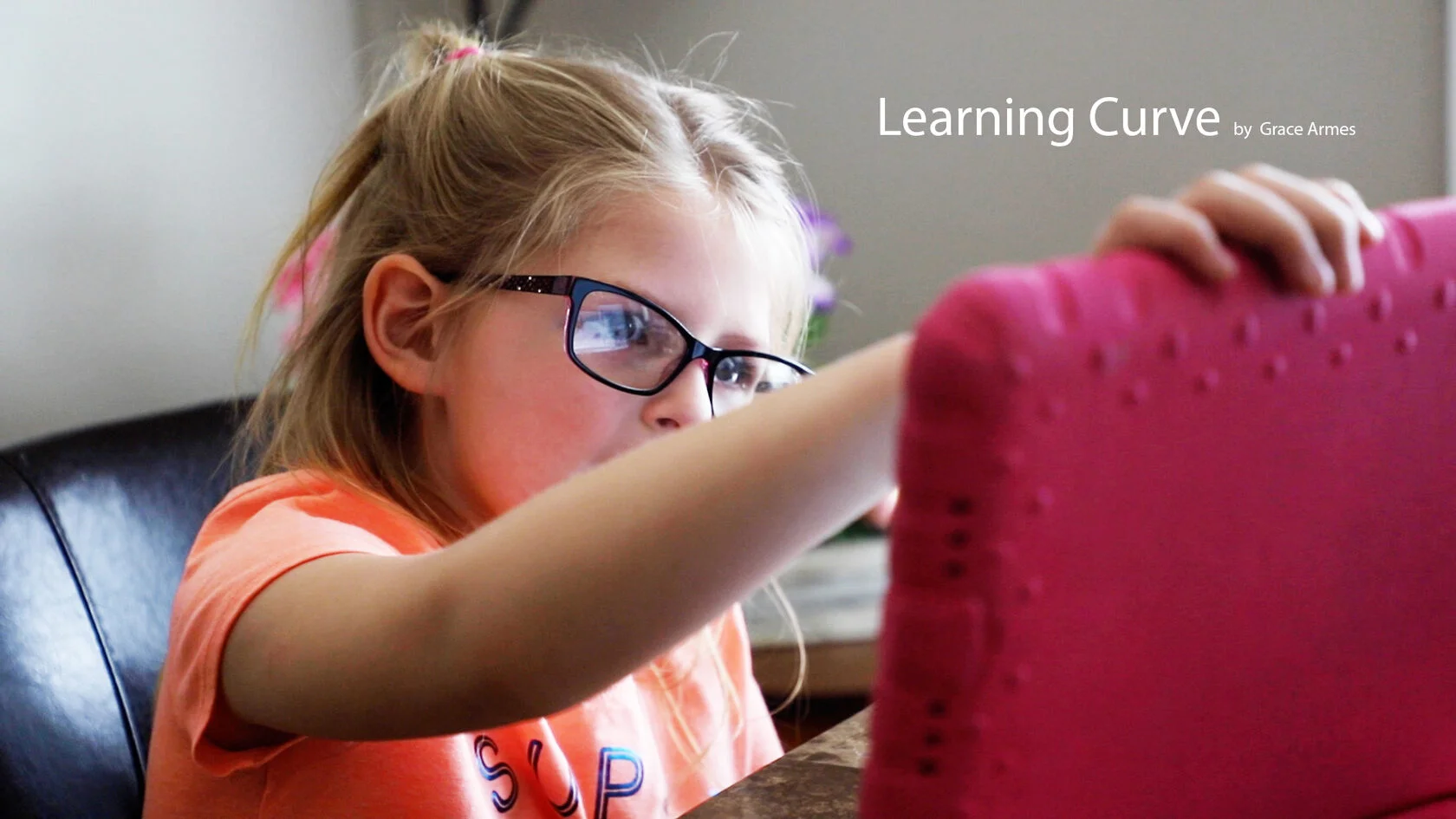 ABOUT THIS PROJECT
How does no-contact learning effect a 6-year-old and her family? Kindergartner Marjorie Young navigates what it is like to be a student and learn virtually while being a sociable little kid amid the COVID-19 pandemic.
Visit Grace's capstone project
---
Ivelliem "Ivy" Ceballo
Tampa, Florida |

Photojournalism major (Second degree)
INTERNSHIPS
Deseret News, Salt Lake City, Utah
Tampa Bay Times, Tampa Bay, Fla.
AWARDS
NABJ Visual Task Force scholarship recipient, 2020
Mountain Workshops scholarship recipient, 2019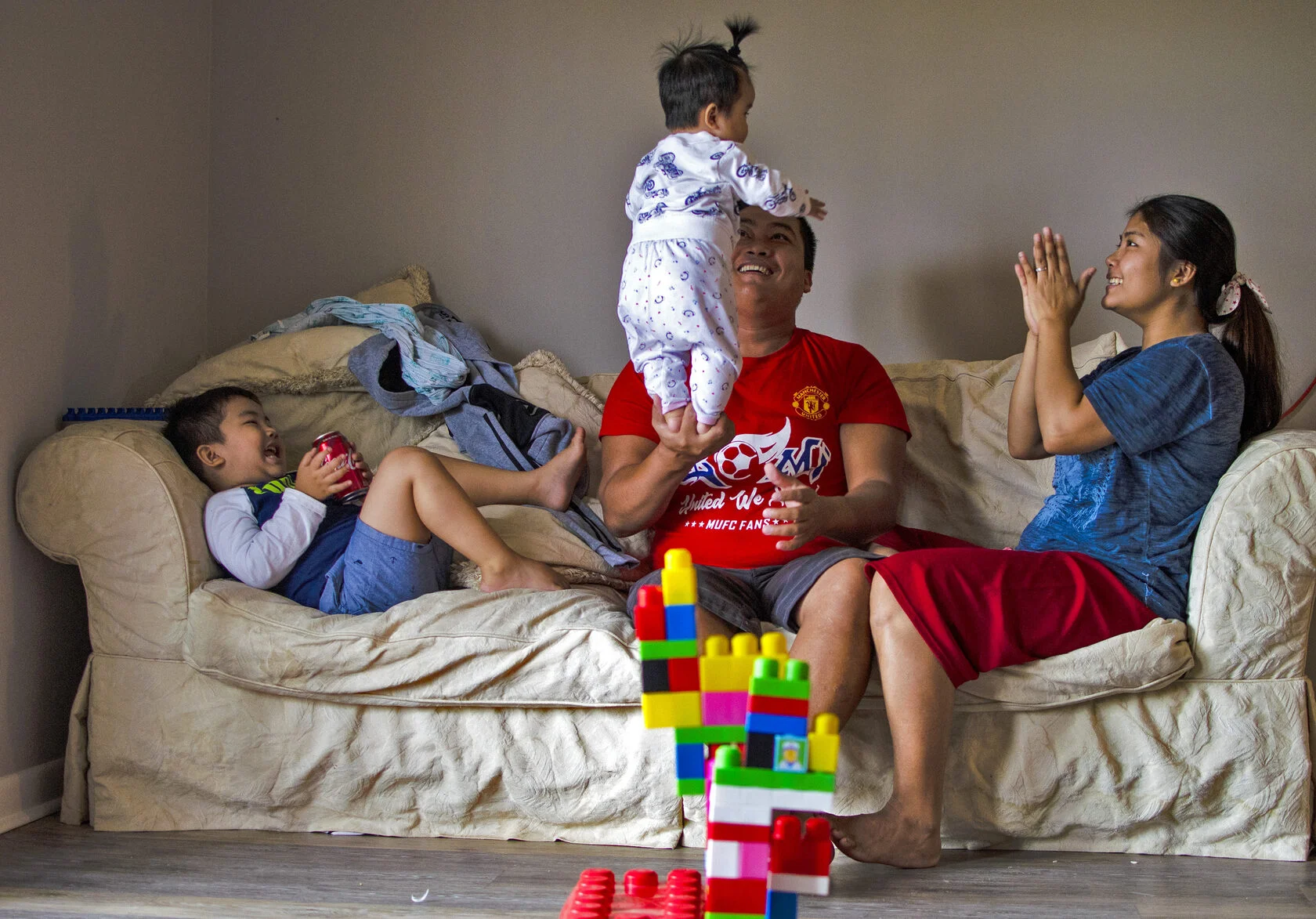 Burmese refugees Thang Khup, Niang Lun and their two children Samuel Lian, 3, and six-months-old Mercy Vaan, play in their home while waiting for their case worker to arrive on Friday, Nov. 30, 2018. The young family began building a new life in the United States on Nov. 9. "I don't work, have any income, but the government, people around here providing me with food, a place to stay that is a blessing beyond anything I can imagine," Khup said.
ABOUT THIS PHOTO
The International Center of Kentucky introduced me to two families, whom I'll always remember fondly, because connecting with them taught me how much fun this profession could be. I felt really nervous while working on sharing Khup and Lun's story because there was a language barrier between us. I had to communicate with them via a translator, who wasn't present the days I went to photograph them, so Google Translate and hand gestures were our friends.
All they brought from their native home was a few clothes, a photo album with 4×6 pictures to remember the life they had to leave behind, and a medium poster from their wedding day on display in their living room, on the wall opposite of the pictured couch they were donated. They had each other and that was enough. Hiding in their shower with a camera while we all played hide-and-seek with Samuel brought me so much joy. This image hangs in their living room now too.
ABOUT IVY'S TIME AT WKU
Do you ever find yourself somewhere with a camera and think, how did I get here?…In this person's space to get to see this moment? That was my WKUPJ experience, and I am so grateful for it. I enjoyed learning about the people and places a camera could help me discover and I look forward to continuing developing this craft.
Although I picked up a camera my first go at college, I never really thought it could become a career. I started out pursuing a career in the military (I know, right? Me. My life was split between leadership involvement in yearbook and JROTC in high school), then life happened and after a hiatus in Brazil, where I served as a missionary, I returned home to finish my first bachelor's degree knowing I wanted to work in journalism. After a web news internship and eventual job I found myself falling head over heels for the work by a talented team of photojournalists at Deseret News, and I wanted to get out of the newsroom and be in the community so badly that I quit my job to try to do it solo.
I made the decision to attend Western after stopping by for a tour on my move back across the country to start only a few months after I visited, and it's been the craziest road trip since. I wouldn't trade the experience and the continued education I gained from Western's photojournalism program at the cost of stealing my heart with the love and support of so many kind humans connected to the Hill.
IVY'S CAPSTONE PROJECT
God Bless My Journey: Laboring in the field while surviving the pandemic.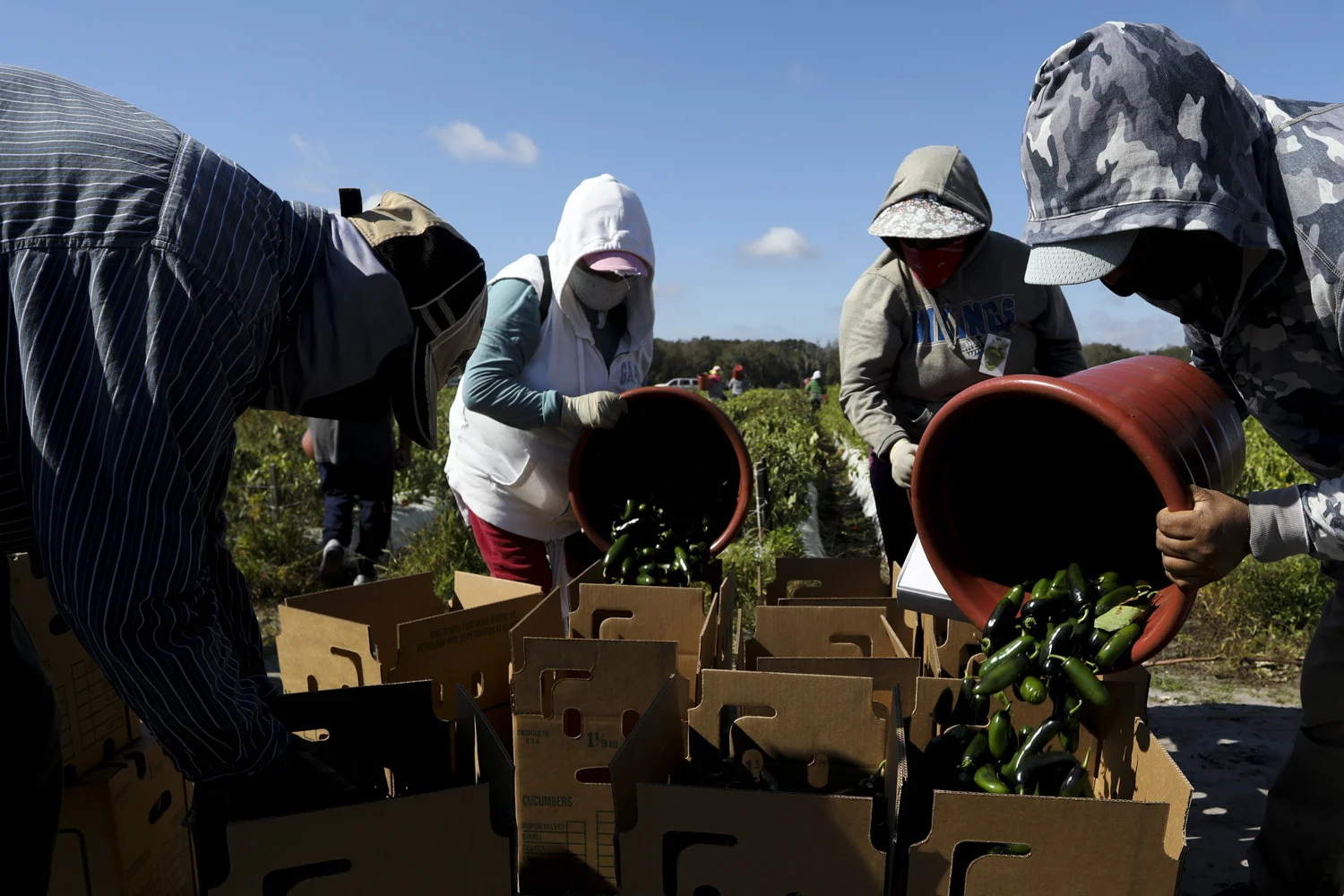 ABOUT THIS PROJECT
A community of essential field workers bonds together amid the coronavirus pandemic. The diaspora of immigrants from Central America already struggle to survive to pay their bills and put food on their tables. When the health crisis struck, the community responded.
---
Joeleen Hubbard
Knoxville, Tennessee | Photojournalism major, Arts Administration minor
INTERNSHIP
Zoo Knoxville, Knoxville, Tenn.
AWARDS
2nd Place, CSP Gold Circle Awards, 2020
3rd Place Feature Photo, Associated Collegiate Press Pacemaker Awards, 2020
George & Francis Tames Scholarship, 2020-2021
David B. Whitaker Scholarship, 2020-2021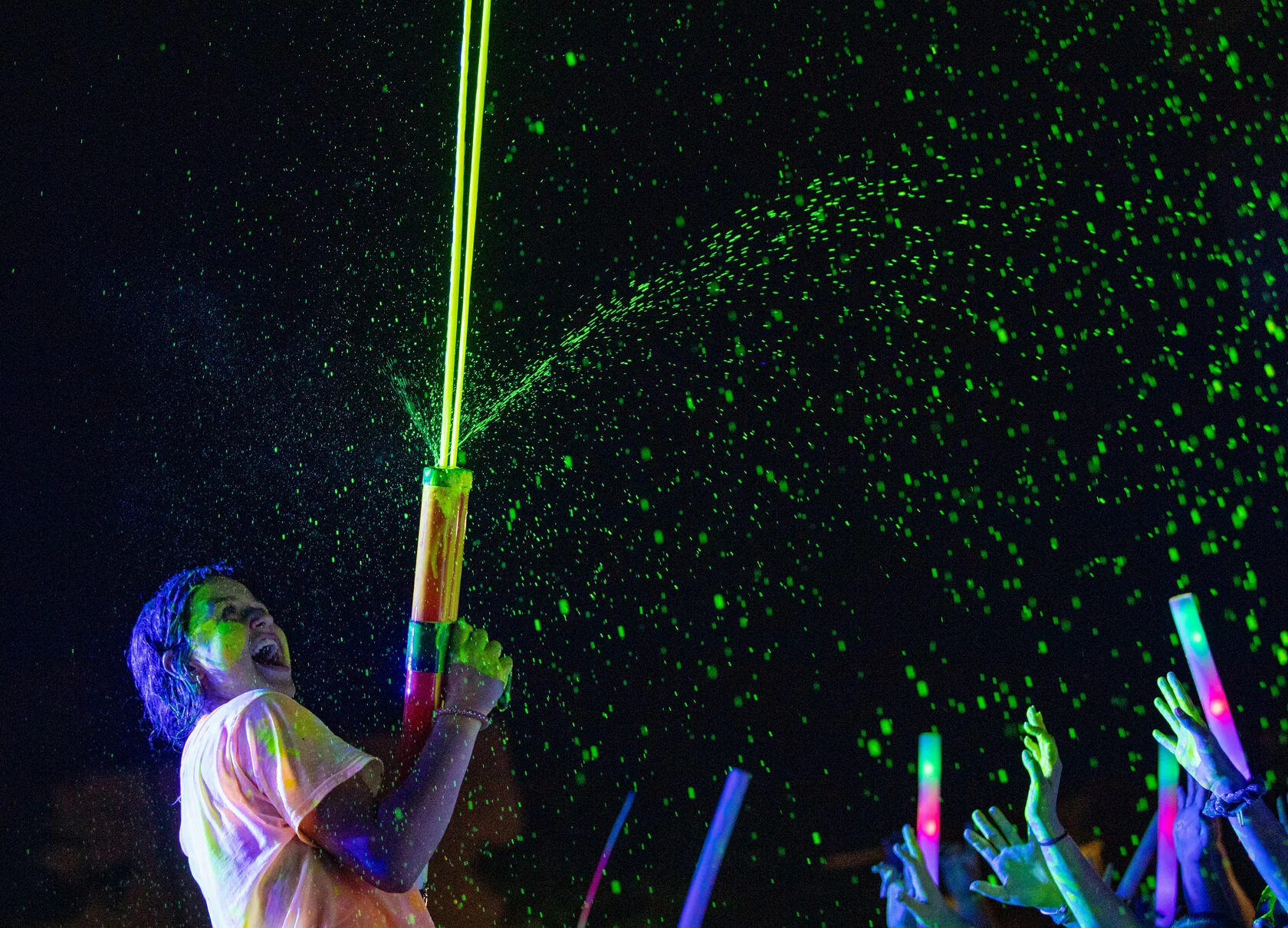 Incoming freshmen participate in a glow zone party on Wednesday, Aug. 21st, 2019 during WKU Master Plan, an orientation program for incoming freshmen to adjust to college life.
ABOUT THIS PHOTO
I chose this image because I was able to capture pure joy during a transitional period for all college students. College has been such an important part of my life where I was truly able to grow into the person I have always strived to become, and I loved getting to document that same experience for other college students. Along with that, this photoshoot was one of the first that built my confidence and reassured me that I am able to do this and eventually enter this career field. I left the photoshoot feeling confident and secure in my ability to become a photojournalist and continue my passion.
ABOUT JOELEEN'S TIME AT WKU
There isn't enough time and there aren't enough words for me to express exactly what WKU PJ has meant to me. When I first began my WKU PJ experience, I would've never seen myself being confident enough to photograph a complete stranger and getting to capture the most intimate moments throughout their daily life.
I've been able to open myself up to some of the best relationships because of photojournalism and have created some of the best memories, all because of the professors and mentors that have pushed me and helped me grow throughout my time at WKU.
Thanks to WKU PJ, I was able to form relationships with peers who have become some of my best friends, meet and photograph some of my favorite musicians, meet and photograph politicians, and even work as an intern to document some adorable animals! That's the magic of WKU PJ- you never know where the heck your time and experiences here will take you.
JOELEEN'S CAPSTONE PROJECT
A Second Chance: A couple shares how traumatic events have strengthened their relationship.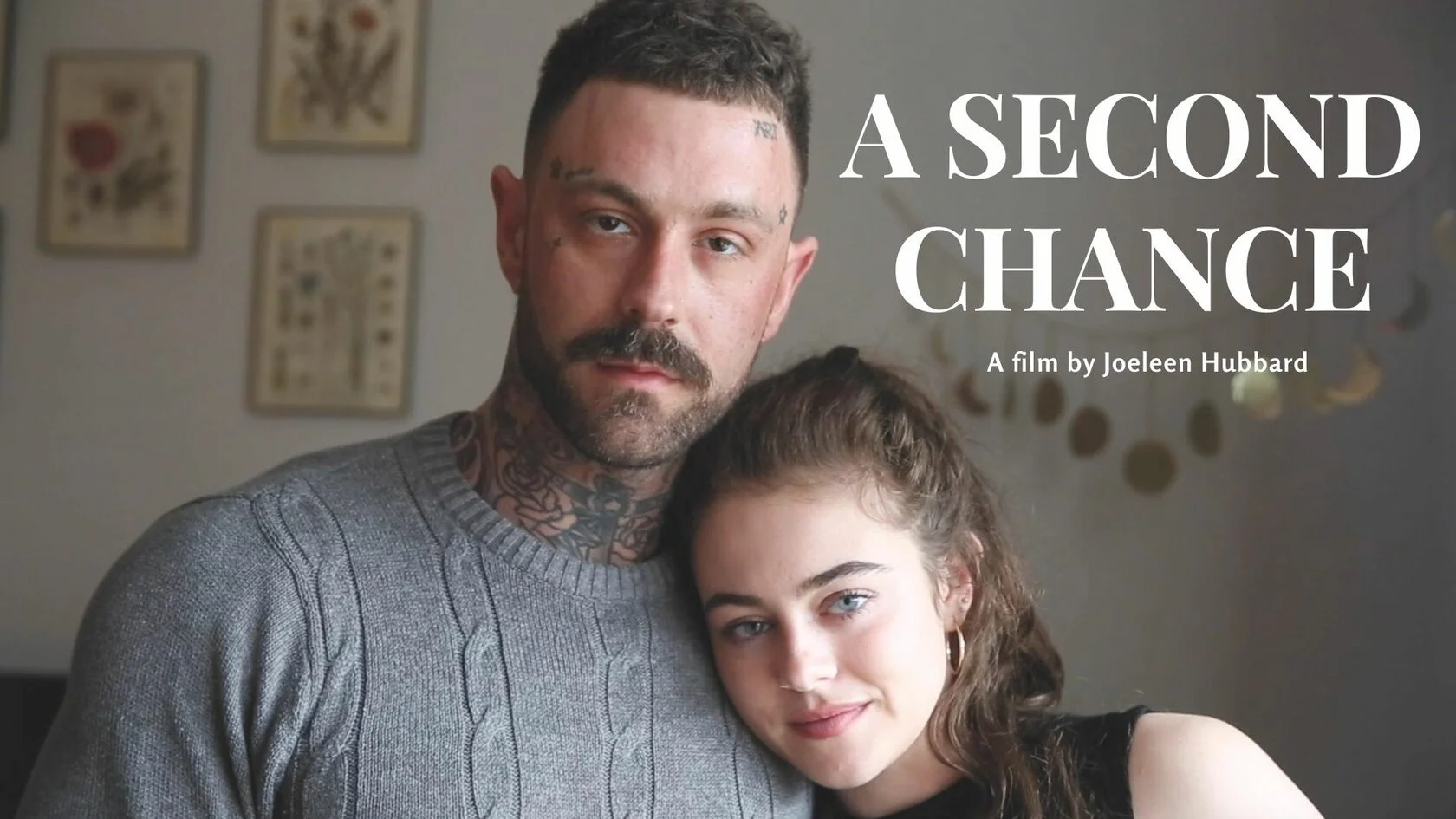 ABOUT THIS PROJECT
Justin Weatherbee was introduced to drugs when he was merely 12 years old. Since then, he has been battling with drug and alcohol addiction while cheating death multiple times. When he met Christina Scott in 2014, he opened up about his journey to recovery; but Scott was unaware of the hardships that the process would bring. The couple soon learns about the struggles that come with addiction recovery but would also find strength and a newfound perspective on their relationship.
Visit Joeleen's capstone project
---
Chris Kohley
Naperville, Illinois | Photojournalism major, Sales minor
INTERNSHIPS
Milwaukee Journal Sentinel, Milwaukee, Wisc.
Appleton Post Crescent, Apppleton, Wisc.
St. Louis Post Dispatch, St. Louis, Mo.
AWARDS
Bob Adams Journalism Scholarship, WKU Student Publications, 2018
David Cooper Scholarship, WKU Photojournalism, 2018
3rd place, Multimedia Sports, The Associated Collegiate Press, 2018
1st place, Sports Picture Essay, Kentucky Press Association, 2018
1st place, Sports feature photo, Pinnacle College Media Awards, 2019
Honorable mention, Magazine cover of the year, Associated Collegiate Press, 2019
Mike Morse Scholarship, WKU Photojournalism. 2019
George Tames Scholarship, WKU Photojournalism, 2020
3rd place, Hearst Journalism Awards, Photojournalism I Competition, 2020
4th place, Hearst Journalism Awards, Multimedia Innovative Storytelling & Audience Engagement Competition, 2020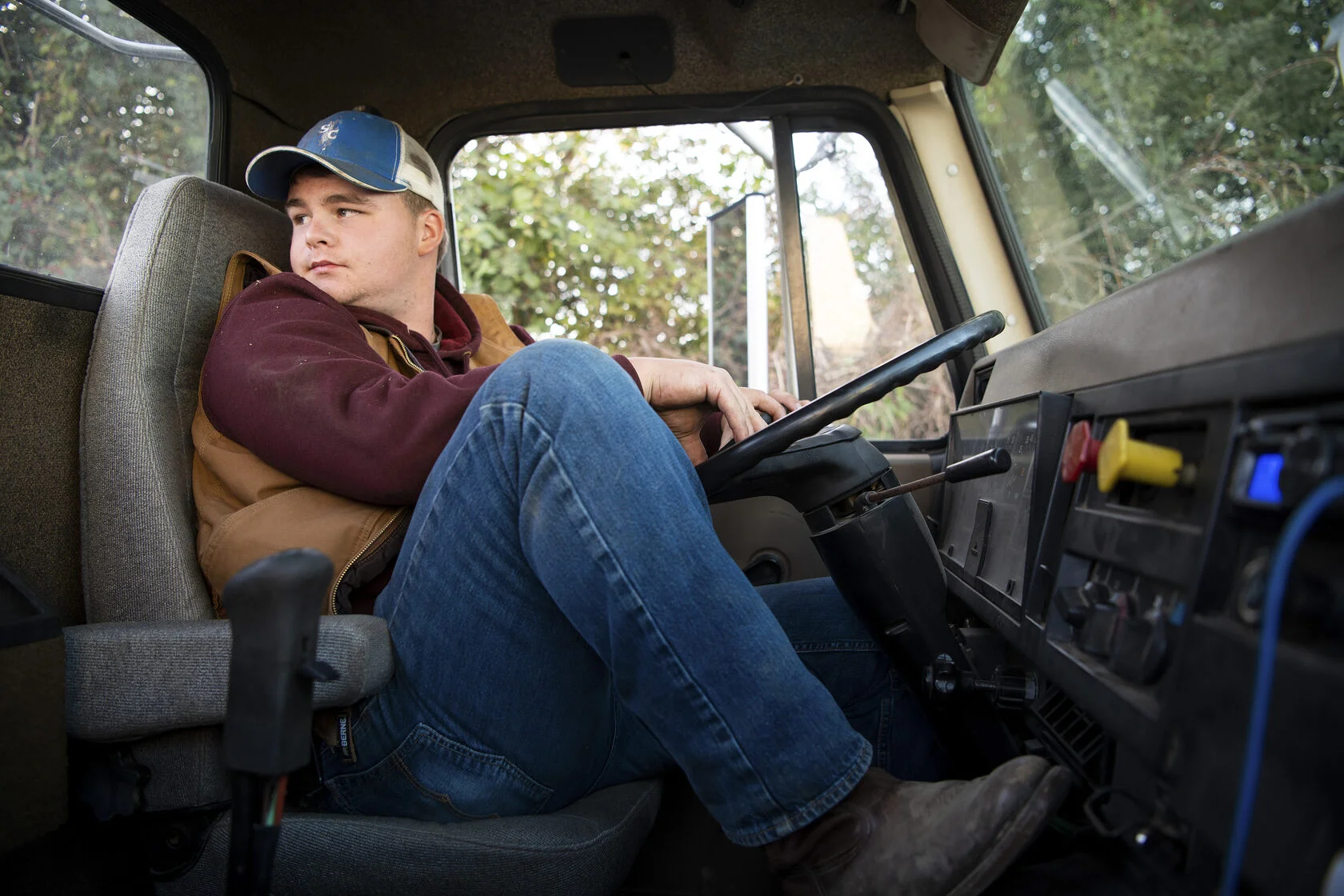 Keaton McCarty, 19, learned the ways of farming as a child on his family owned farm. Today, he is the owner of his own farm and has aspirations for its future. He says his goal is to give farmers a better reputation in America.
ABOUT THE PHOTO
This image is from the 2018 Mountain Workshops in Mt. Sterling, Kentucky. It's of 19-year-old Keaton McCarty sitting the cab of a semi-truck waiting to drop off a supply of grain. There is something magical and infectious about Mountain, I feel like everyone who goes gets a lasting image from it. I have great memories of my story especially because my subject was the same age as me, but we had very different paths in life. Keaton graduated high school and immediately wanted to become a farmer because it is in his bloodline and there aren't many people who wish to be local farmers anymore.
Keaton and I got along so well because we could have been buddies in college, we were the same age and just understood each other. That allowed some vulnerability out of Keaton which allowed me to make this image. I remember sitting in the passenger seat of the cab making conversation with him and snapping some frames here and there. In this moment he happened to look over his shoulder as a friend approached his vehicle, and that made the picture which ended up in the final story and is ultimately what comes to mind when I think of my most memorable WKUPJ image.
ABOUT CHRIS' TIME AT WKU
As a freshman, the standard of work being done by those ahead of me was so astonishing and inspiring. Nobody did the same kind of work, and I appreciated the freedom WKUPJ offered you to become the kind of photographer you want to be. I used this freedom to immerse myself in everything WKU had to offer from student publications, the Mountain Workshops, and WKU Athletics. I'm leaving this program having accomplished more than I could have ever imagined as an 18-year-old coming in. WKUPJ has meant lasting friends and connections, a place for me to spread my wings, and given me confidence in my own work and abilities.
CHRIS' AND LILY'S TEAM CAPSTONE PROJECT
Love After Loss: A couple prepares and deals with the loss of their newborn daughter to Potter's Syndrome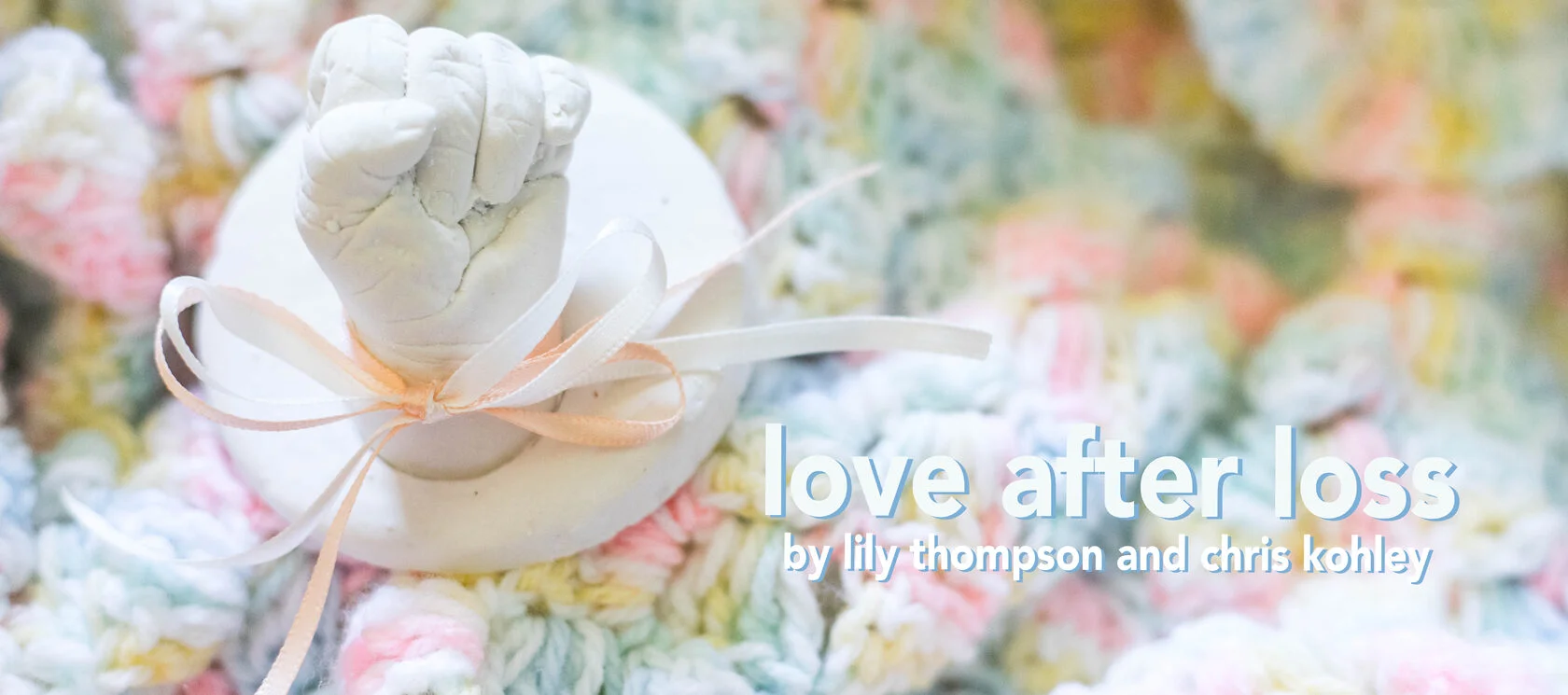 ABOUT THIS PROJECT
Kylee and Wyatt Weeks were expecting their first child, Naomi, in November 2020. Weeks before delivery, the couple discovered the baby would be born without kidney's due to the development of Potter's Syndrome. Kylee and Wyatt then prepared to deliver a child they knew would not survive.
Visit Chris' and Lily's capstone project
---
Reed Mattison
Bowling Green, Kentucky | Photojournalism major, Outdoor Leadership
INTERNSHIPS
Outdoor Leadership, 2018
Explore Kentucky Initiative, 2017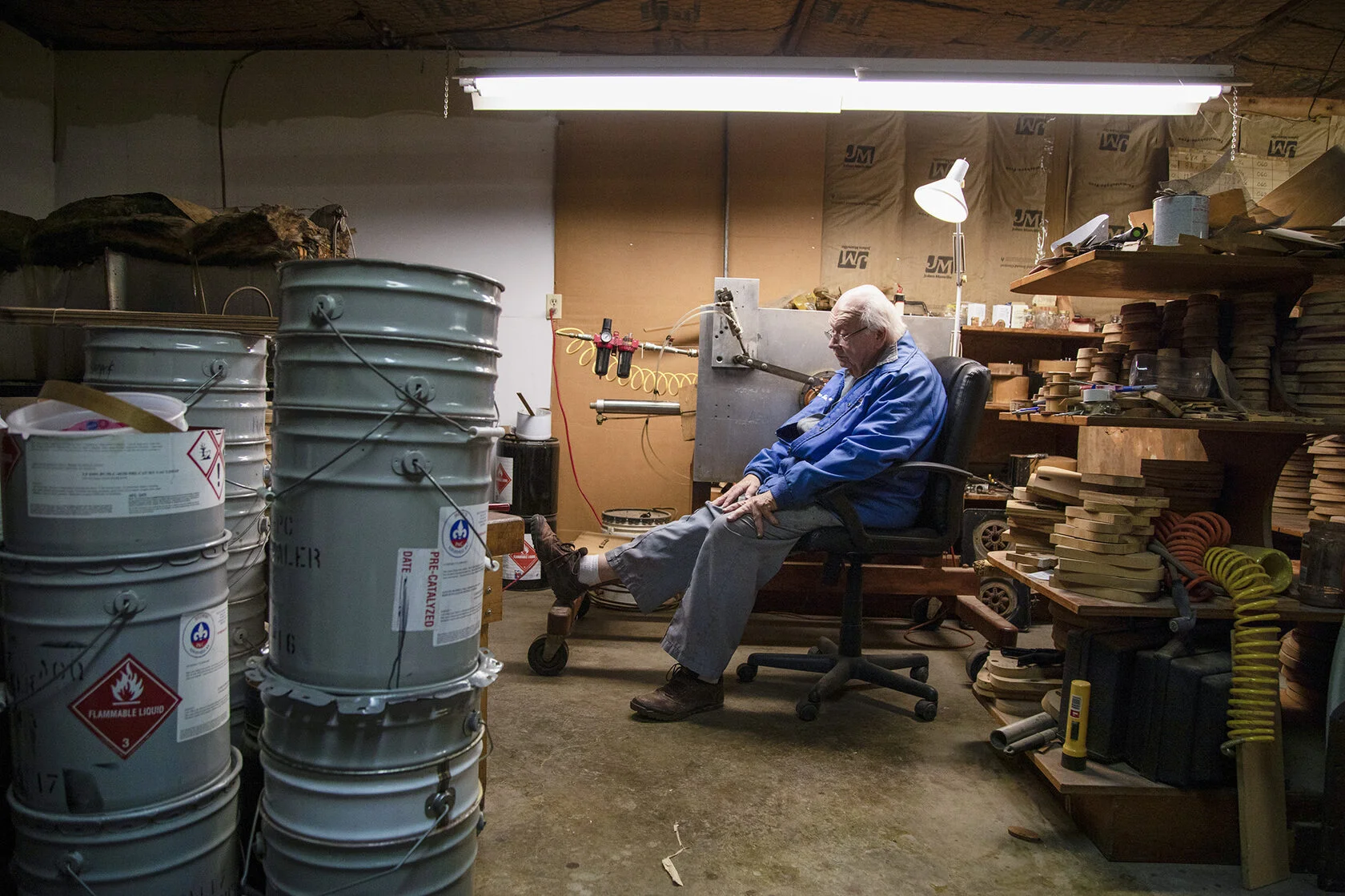 David Kramer, 85, sits beside his custom-built machine designed to bend wood. Kramer makes Shaker boxes and sells them in Shakertown, a defunct religious community in central Kentucky. David has been making boxes for almost 30 years. "I enjoy it," David says. "It keeps an old man off the streets."
ABOUT THIS PHOTO
This picture is important to me because I felt like I was beginning to hit my stride as a photojournalist. During my time photographing Mr. Kramer at the Mountain Workshops, I had no other distractions or obligations. It was the most feedback I'd gotten on a story, it was the most time I'd spent with a subject consecutively, it was just the most in all aspects. Mr. Kramer ate me alive though, he asked me tough questions, made me work hard to find his story, and gave me nuggets of wisdom I'll always think about.
ABOUT REED'S TIME AT WKU
I definitely didn't know what I wanted to do in school. After finding WKUPJ, I wouldn't want to do anything else. My time here has been so formative and has been hard at times. A word to newcomers: it will get hard, but that's what makes the trip so beautiful. Hold onto your friends and persevere together. To all my classmates: I love you and thank you. I'm not dying, I'm just graduating. 
REED'S TEAM CAPSTONE PROJECT
Green is Easy on the Eyes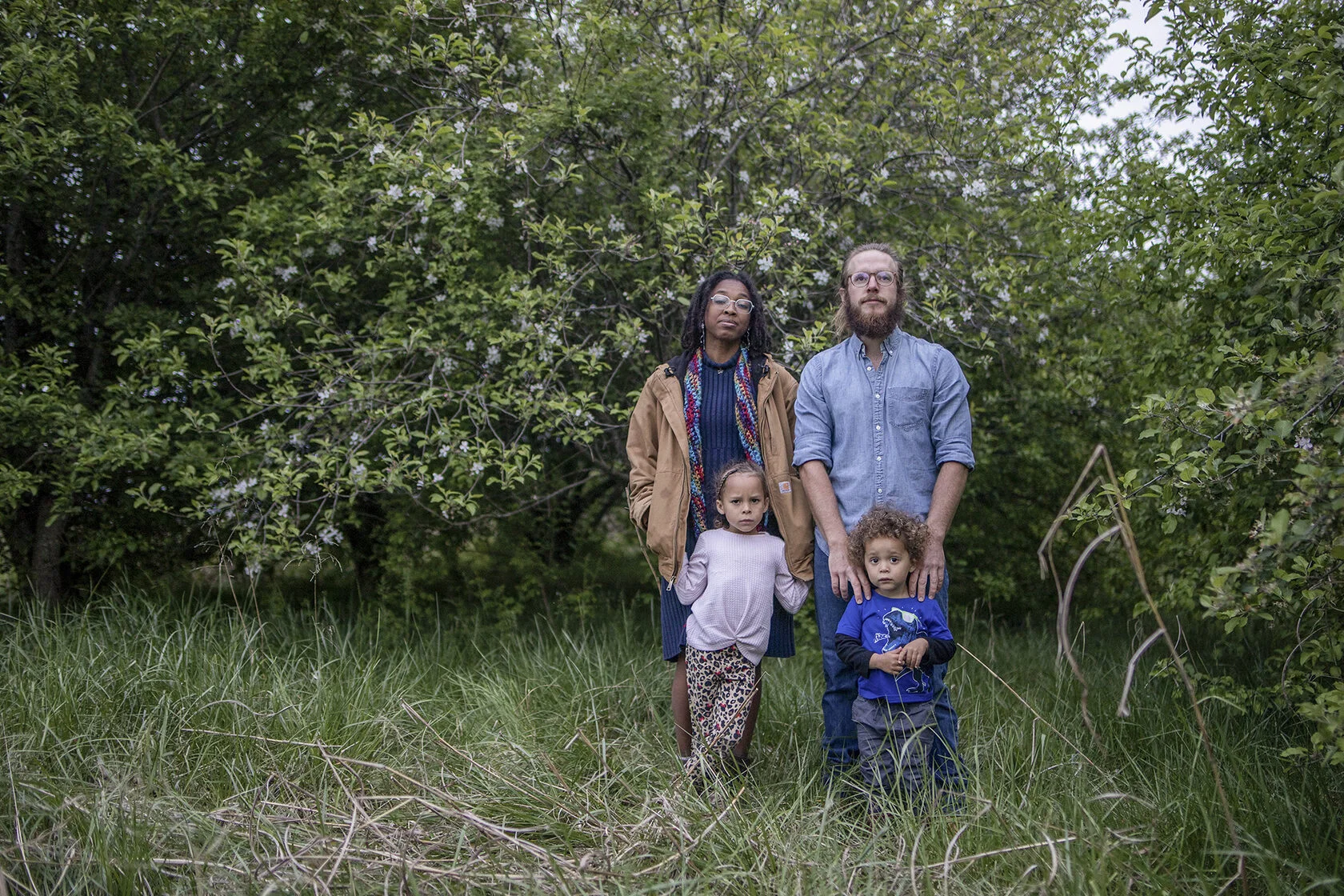 ABOUT THIS PROJECT
Max Farrar and Davida Flowers are two of the 321,000 Millennial farmers. As a generation becomes more concerned about the climate crisis and sustainable food sources, Millennials are finding their way back to the dirt.Max and Davida find gardening while living in Houston, however the constraints of the city, a surprise pregnancy, and the drive to pursue something bigger than themselves lands them in Bowling Green on Max's grandfather's old farm.
Visit Reed's and Mads' capstone project
---
Alex Maxwell
Salt Lake City, Utah | Photojournalism major, Music minor
INTERNSHIPS
WKYU – PBS, Bowling Green, Ky.
AWARDS
9th place, Hearst Multimedia Category II, 2021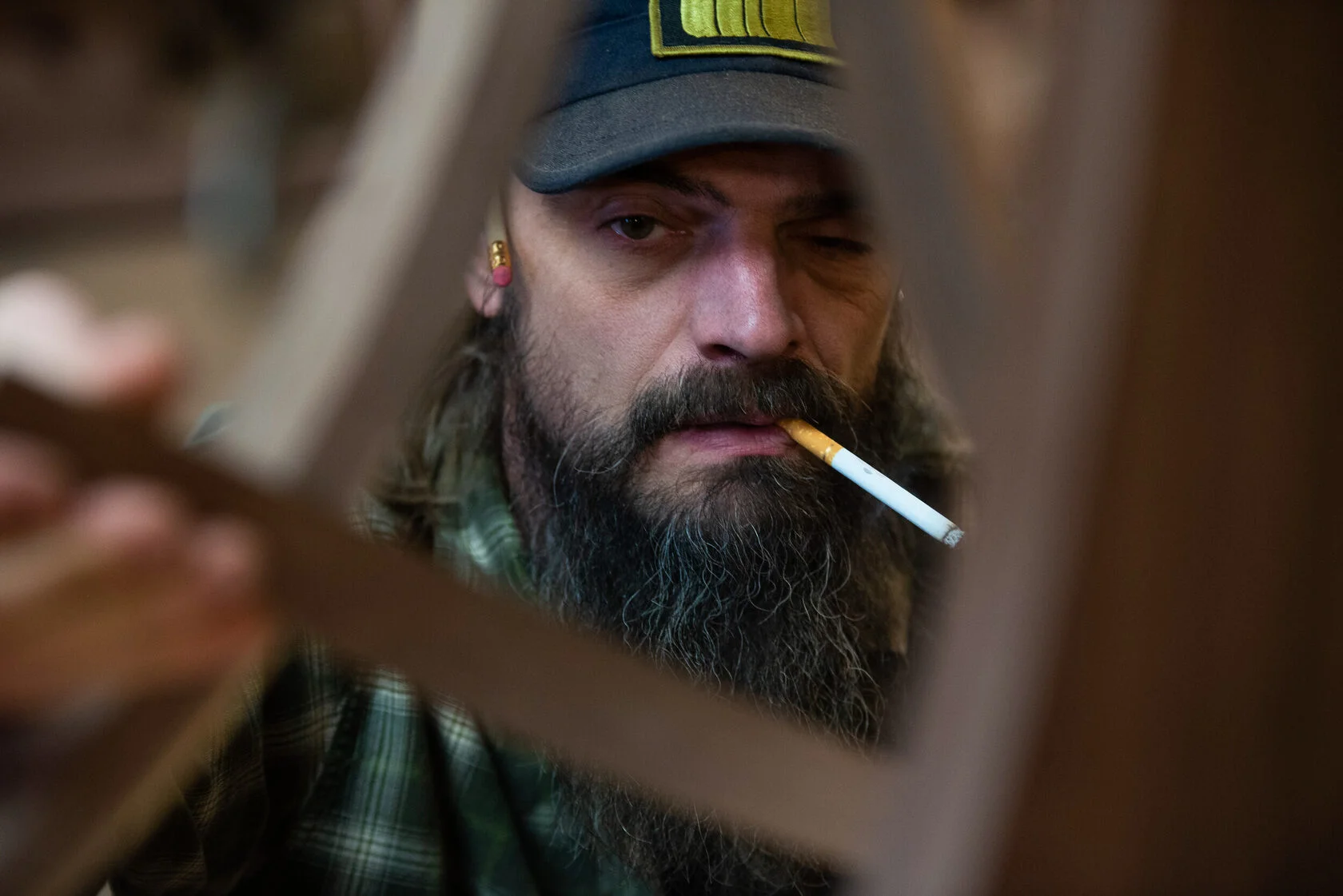 Master carpenter Mark Whitley aligns pieces for a table at his workshop in Smith's Grove, Ky.
ABOUT THIS PHOTO
This image of master woodworker Mark Whitley in his shop is one of my favorite shots of a character, and this project represents to me one of the first times I felt like a true photojournalist capturing unique moments.
ABOUT ALEX'S TIME AT WKU
Being a part of the PJ program has led me to so many unique experiences, behind the camera and otherwise. I've made lifelong friendships, and become a better journalist thanks to the great people and professors at WKU PJ.
ALEX'S CAPSTONE PROJECT
Recovering Hope: How the community is fighting the growing hunger crisis.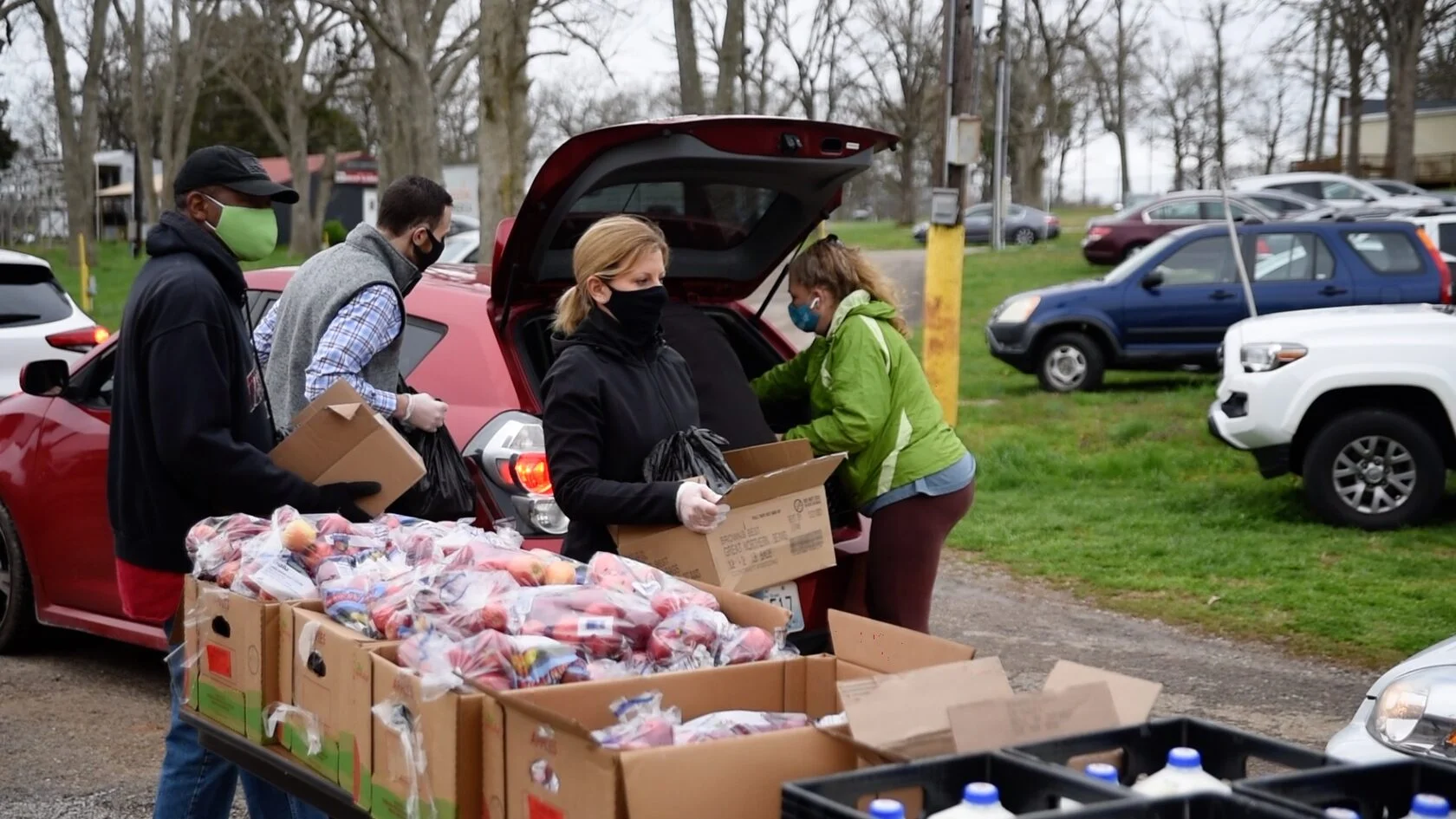 ABOUT THIS PROJECT
Recovering Hope is a look into how hunger in Bowling Green has been made worse by the Pandemic. It shows how people in the community have sought to fight back against growing food insecurity, and how food pantries and new forms of hunger relief have coped with the rise in demand.
---
Rhyne Newton
Shepardsville, Kentucky | Photojournalism major, Fashion Merchandising minor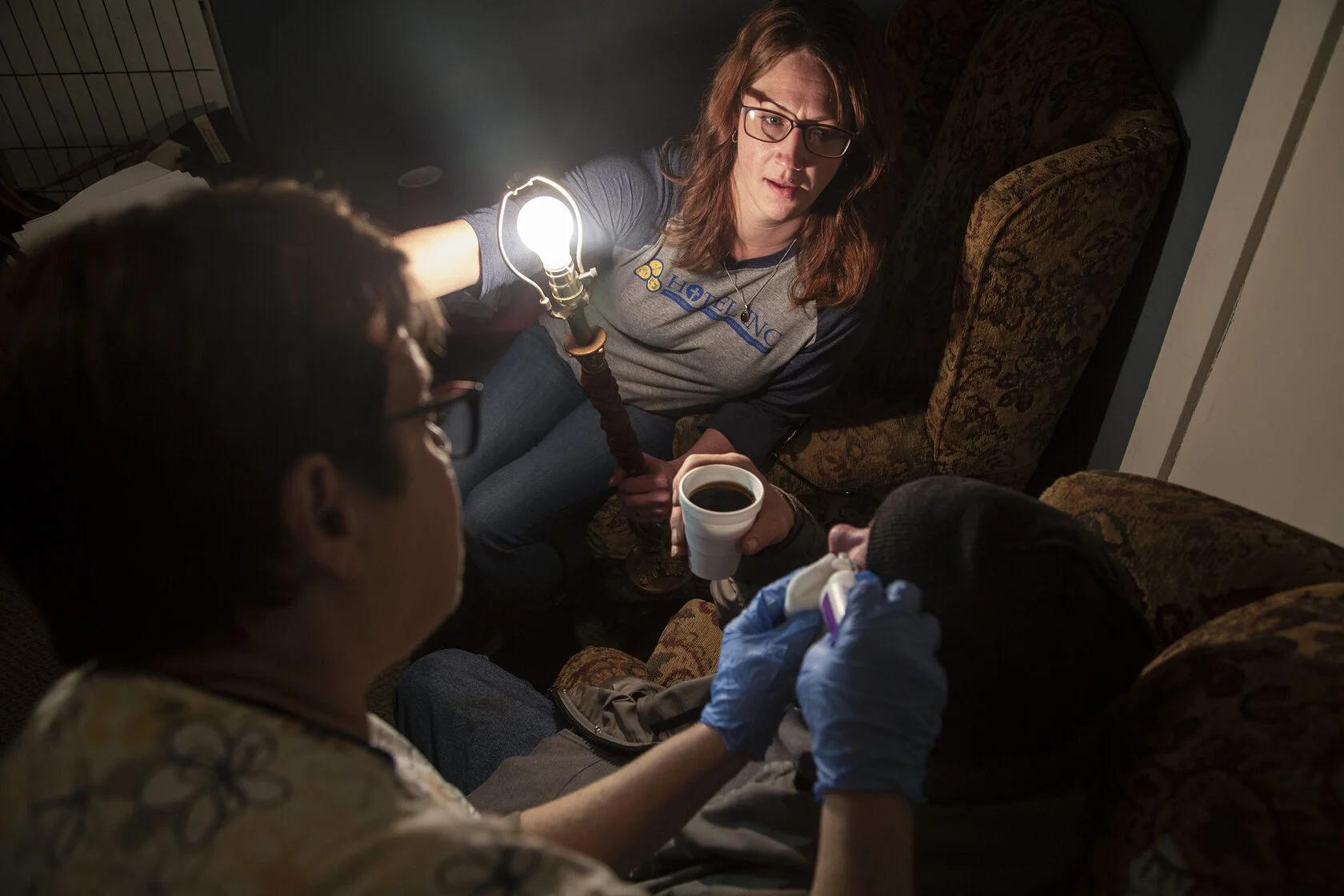 Cowles and Leann Crawley, a VA nurse for Hotel Inc. tend to Jeff's wounds after a fall to the concrete at the Inn. Often times medicines are lost or stolen and never able to found again, without the help of Cowles as the street medicine coordinator. "It's real and it's raw and you leave exhausted but you keep going and you get used to it cause this all matters to keep them going," said Cowles.
ABOUT THIS PHOTO
This image represents one of those moments where I walked into a high-pressure situation with a subject for my picture stories class. There was going to be a lot of vulnerable situations going on, most of which usually weren't captured with a camera. But the PJ syndrome kicked in as soon as I walked through the door that night, and I felt like I knew exactly what I was doing. I was able to capture this image, which was able to represent the determination and tenacity my subject had, and I was extremely proud as well as my professor, Mr. Kenney, thank God!
ABOUT RHYNE'S TIME AT WKU
I think the best part of PJ is how you gradually develop your own visual style. Over these four years you go from shooting everything, a frantic mess to catching yourself planning shots in your head before you're even there. Everything you shoot is blurry, there's always no good light and don't even think about captions. But then there's a switch! One day, you have a killer story, clear ideas of the visuals you want, you are sharp (mostly), and you feel kind of badass and maybe…might be good at this? Nah, that's going too far. Anyway, it's been four years and I've loved every minute, WKUPJ.
RHYNE'S CAPSTONE PROJECT
Mix of All Three: Nana, Mom and Dad. At 64 years old, Karen Teyib has to be all three.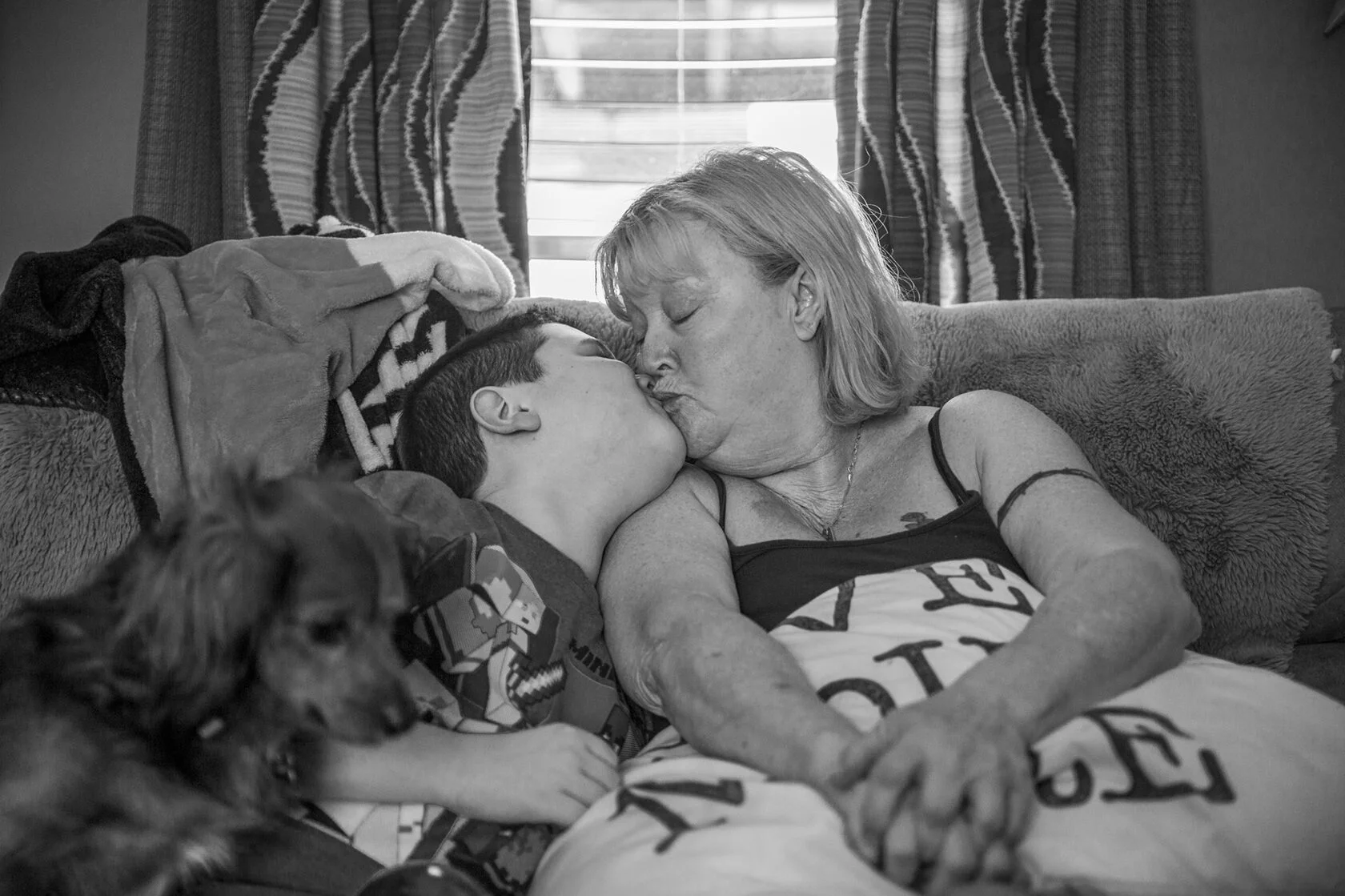 ABOUT THIS PROJECT
A closer view into the realities of single-parent Kinship Care as a grandparent in Kentucky. The state remains at number one for the highest number of kinship cases in the nation, leading thousands of children to be re-homed each year.
Visit Rhyne's capstone project
---
Caroline Prichard
Delray Beach, Florida | Photojournalism major, Marketing minor
INTERNSHIP
Organization for International Investment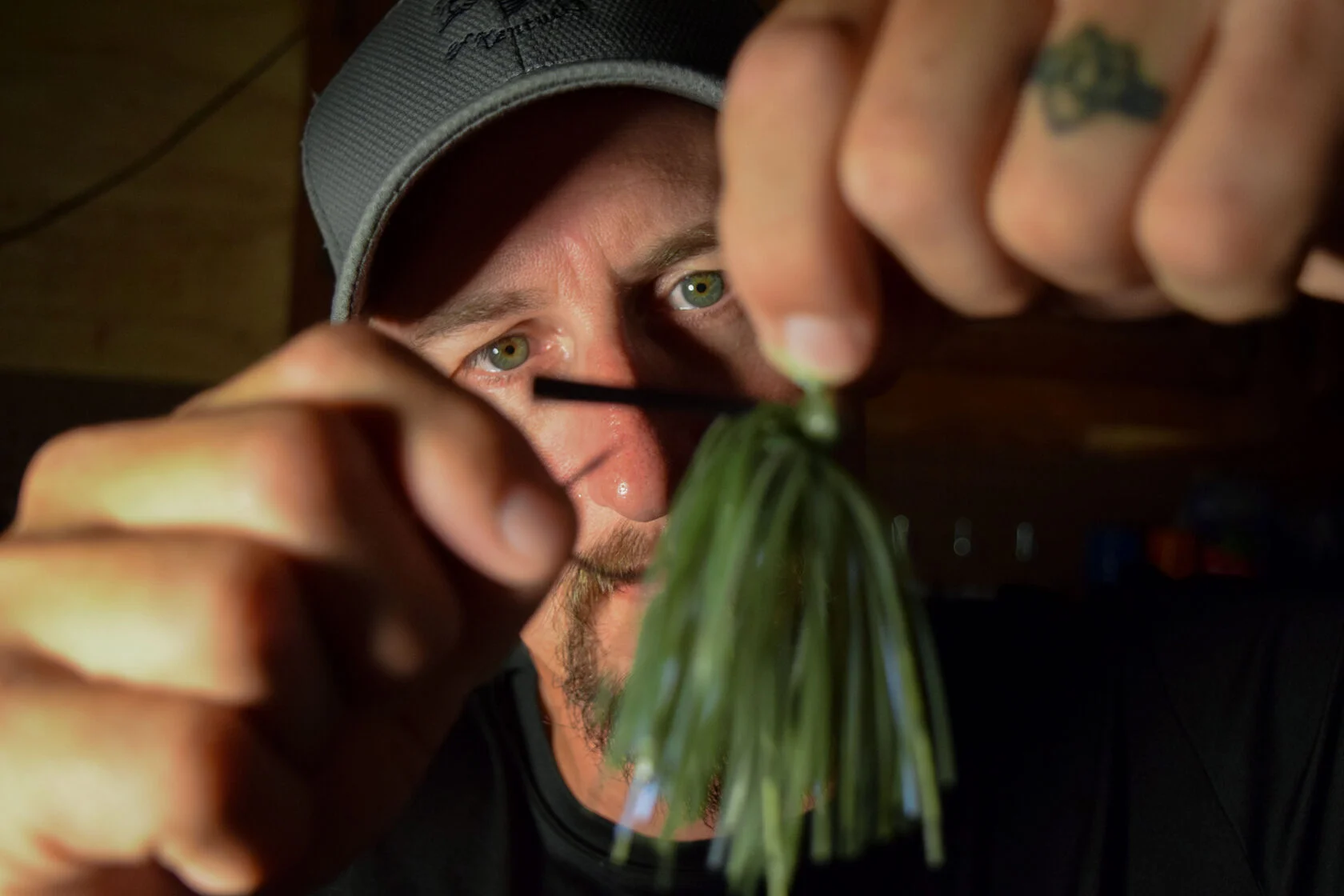 Chad Hayes works on a lure he hand makes in his garage workshop for his small online business in rural Kentucky. Chad started his small business as a passion project that could also help him make ends meet, he works as a full-time electrician the other 14 hours of the day, then returns home to make and pack orders.
ABOUT THIS PHOTO
This photograph means a lot to me because this was one of the most labor-intensive stories I had done. I was told my freshman year that I would not make it through the program without a car. Four years later, many Ubers, Lyfts, and borrowed cars later, I am here to say it is possible. For this story I had to drive an hour and half into rural Kentucky in one of my friend's very old and dilapidated cars. I had never driven this far out into a rural area before, alone, with spotty cell service. This shoot pushed me put of comfort zone and l taught me a lot about myself and my commitment to my photography.
ABOUT CAROLINE'S TIME AT WKU
WKUPJ has been some of the most challenging yet rewarding years of my life. I absolutely love my WKUPJ family and all the amazing friends and lasting connections that I have made within the program. My classmates are some of the most supportive and helpful people, I couldn't have made it this far without them.
CAROLINE'S CAPSTONE PROJECT
Getting Out and Trying Again: A  single mother struggling to get her life back on track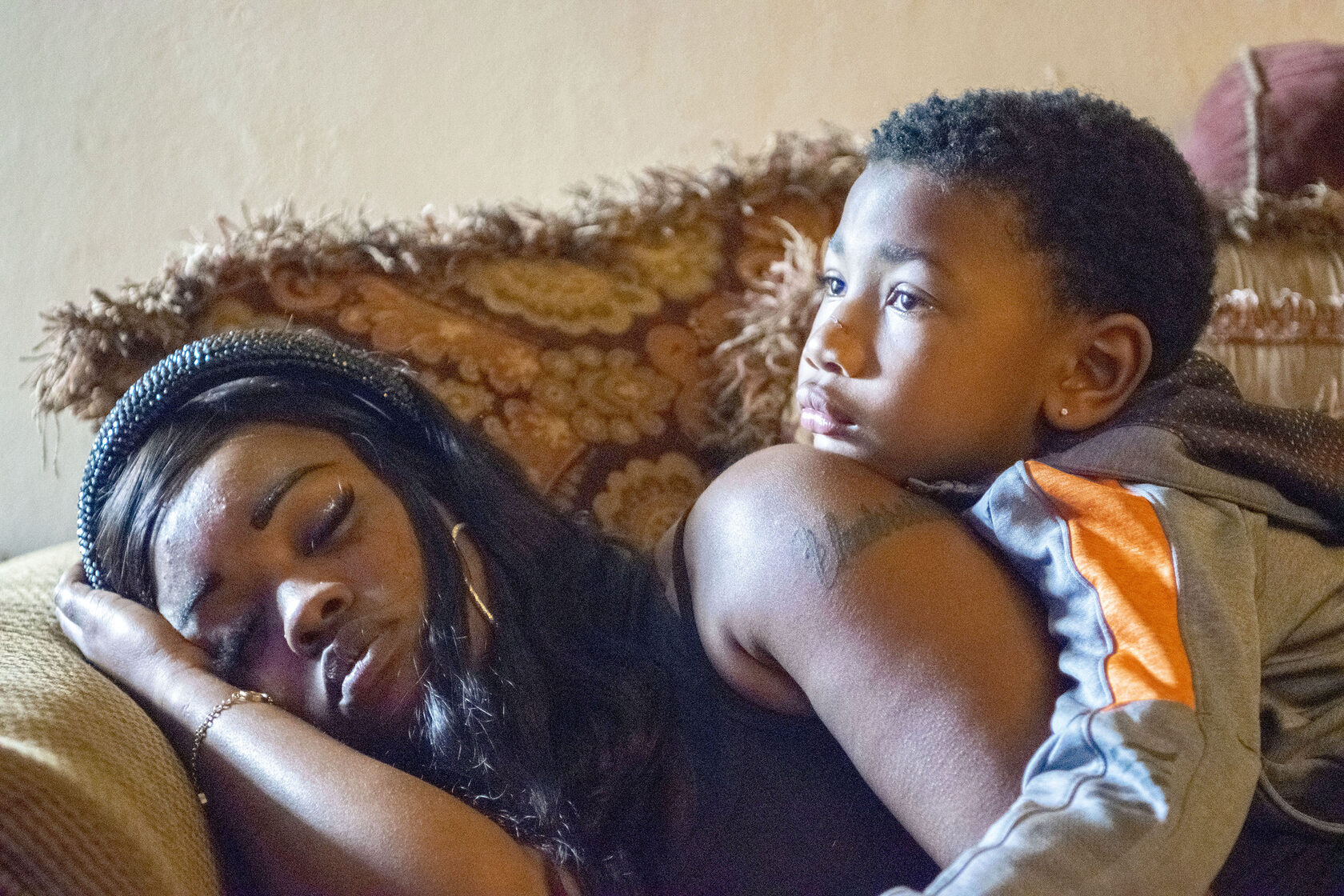 ABOUT CAROLINE'S CAPSTONE PROJECT
Carlandus (Cece) Elis is a 30-year-old single mother, currently living at a non-profit provided housing organization. Cece went through a multitude of trying living situations in her childhood from being abandoned by her mother who was addicted to drugs, being sexually assaulted by her grandfather, and physically abused by her biological father. All resulting with her being in and out of foster care, group homes, and inevitably jail.Cece represents a large demographic of children in America who grew up in single parent households riddled with abuse and how it both negatively impacts them for the rest of their lives.
---
Chloe Skeese
Berea, Kentucky | Photojournalism major, Creative Writing minor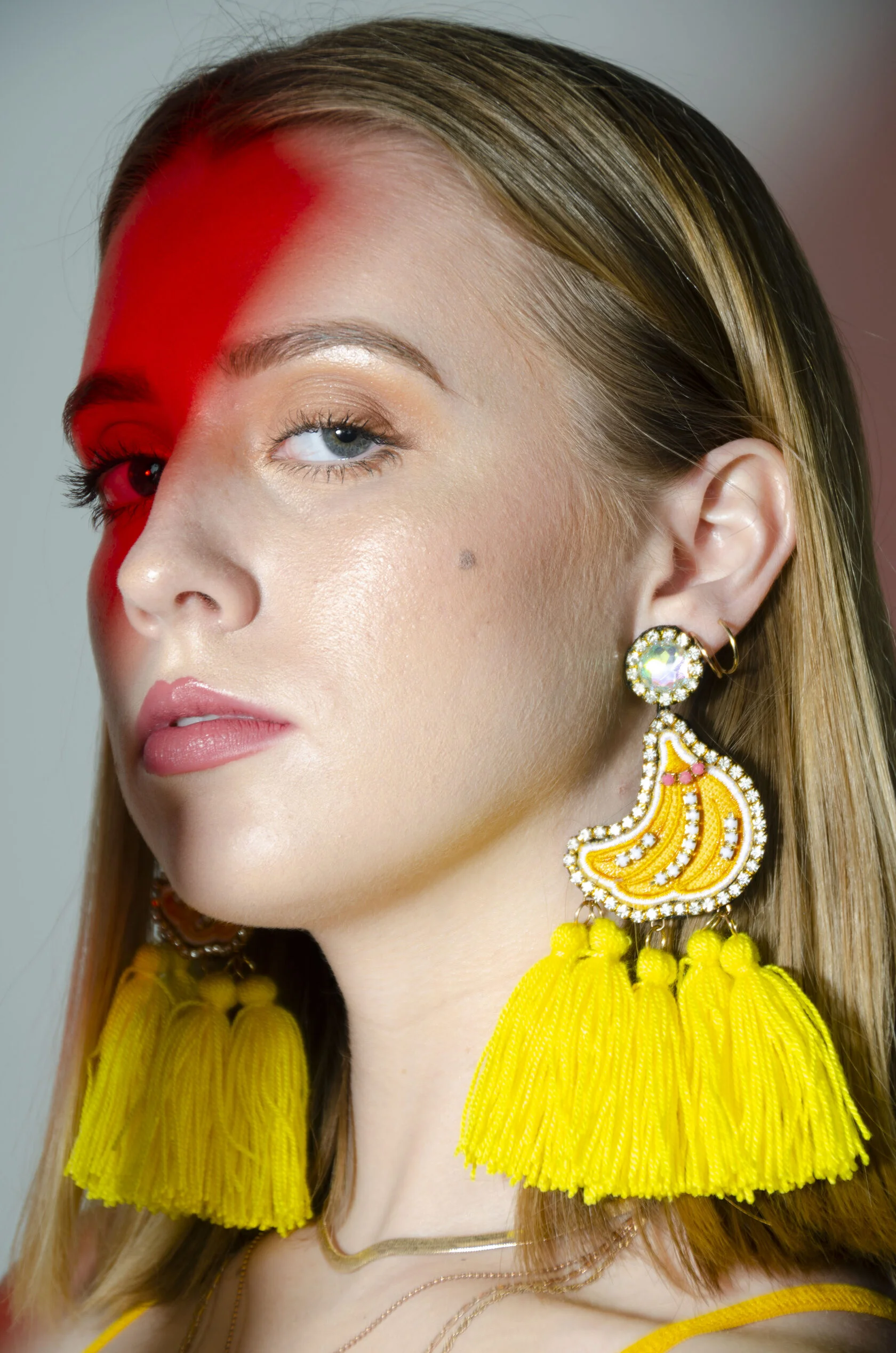 ABOUT THIS PHOTO
This image was the first photo that I truly felt confident in. I could finally look at my work and see progress and potential, which became my constant encouragement to keep going.
ABOUT CHLOE'S TIME AT WKU
I am immensely grateful for WKUPJ and all that it has taught me. Being encouraged to constantly step out of my comfort zone to try new things has provided me so many great adventures. I have created new friendships and connections in places I never would have dreamed. The constant support from everyone has allowed me to become more confident in the work I produce and has taught me to never give up on both small and large goals. It may have been the most challenging for years of my life, but in the end, it was worth it.
CHLOE'S CAPSTONE PROJECT
From Number to Name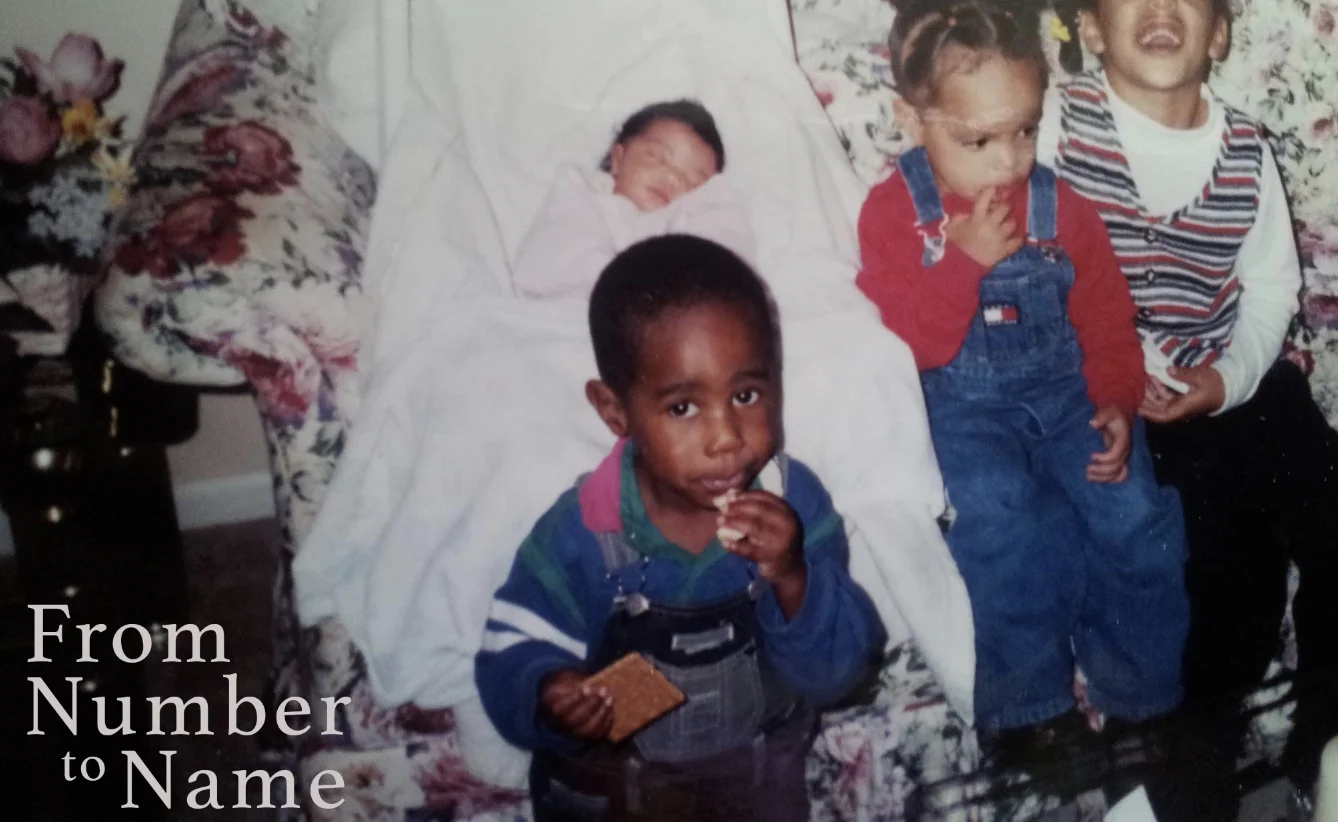 ABOUT THIS PROJECT
Creating a name for yourself seems impossible. Creating a name after enduring years of trauma, pain, starvation, and neglect can be even more difficult. Tyler Hunter-Boards spent the majority of his childhood in different homes. Homes that should have been trusting and loving family members turned to homes that he would never go back to. Now, Hunter-Boards helps create a new legislature for the Kentucky foster care system in an effort to prevent others from going through what happened to him. He has his eyes set on one goal and one goal only, but this was not always the case.
Visit Chloe's capstone project
---
Emma Steele
Louisville, Kentucky | Photojournalism major, Sales minor
INTERNSHIP
Loudoun Now, Leesburg, Va.
AWARDS
14th place, Hearst picture stories category, 2019
3rd place, Kentucky Press Association, Picture Essay, 2019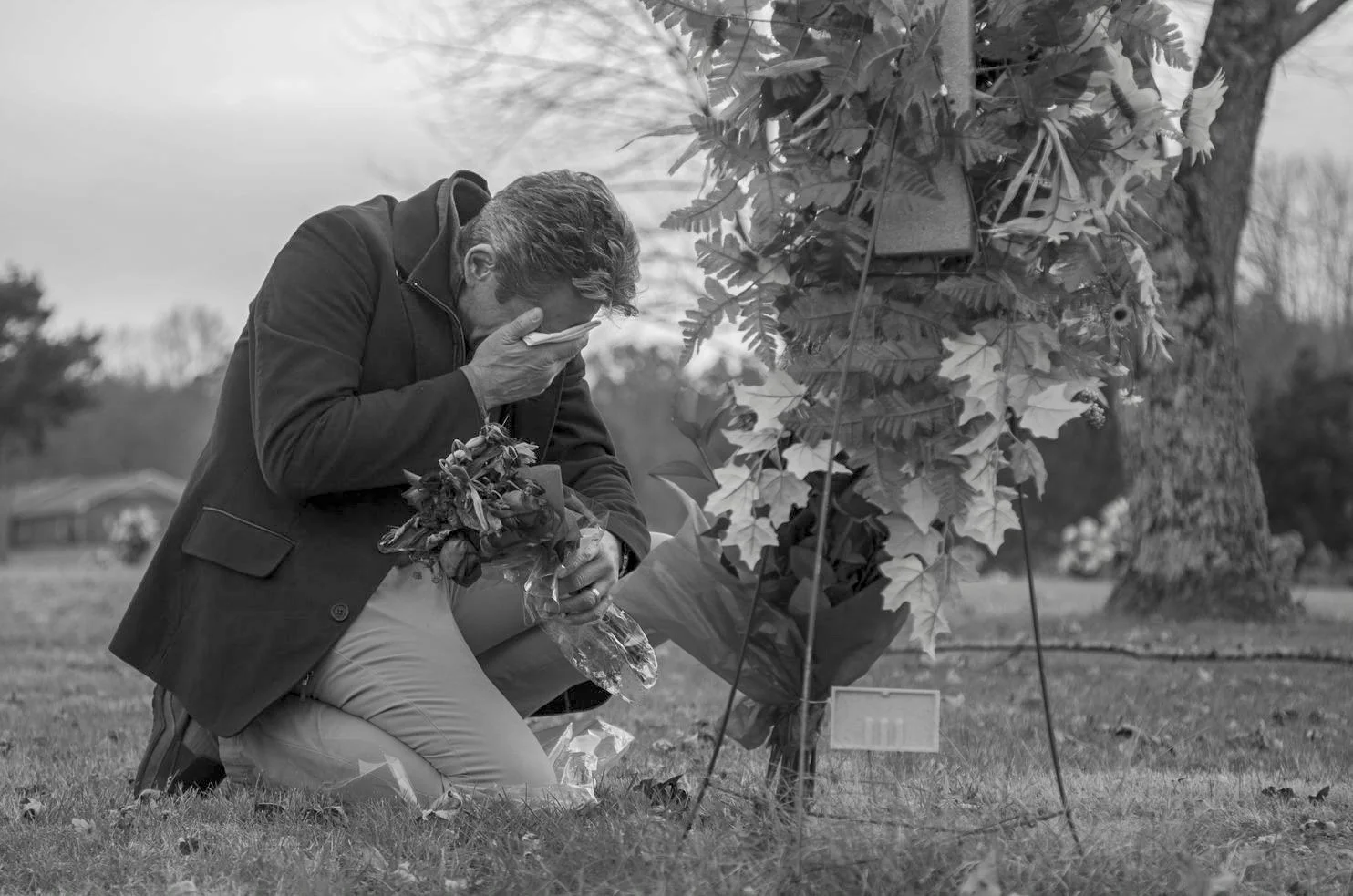 Randall Davidson brings roses to his wife Megan's grave every Sunday. "Roses symbolize love," Davidson said.
ABOUT THIS PHOTO
This image is the cover photo from my picture story "We can do Hard Things". This story was one of the most emotional pieces I've ever worked on and changed my entire perception as a person and a journalist. I knew that I was doing something right if my subject, Randy, allowed me to enter in on his most vulnerable moments after losing his wife just months before.
ABOUT EMMA'S TIME AT WKU
WKUPJ has taught me way more than how to be a photojournalist. I have learned how to step out of comfort zones, be bold, communicate better, and challenge myself. It has contributed to a major part of who I am fundamentally. Learning how to overcome challenges throughout the program has been the most rewarding. It has given me confidence that if I can make it through one of the toughest Photojournalism programs, I can achieve great things in the future. 
EMMA'S CAPSTONE PROJECT
My Family Portrait: Digging into my family's past to discover the root of my passion for photography.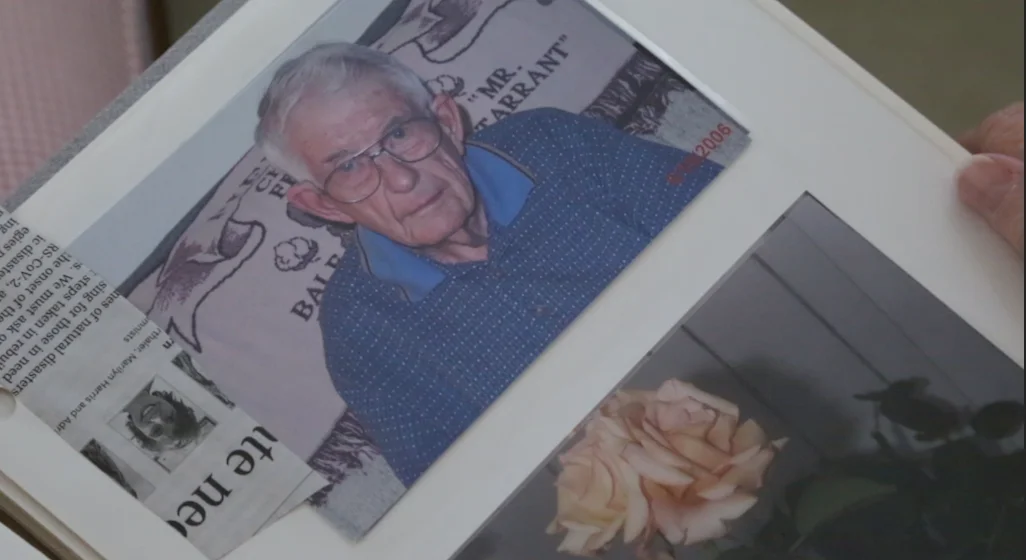 ABOUT THIS PROJECT
Knowing that my Great Grandfather had made a huge impact in my life, it was time for me to find out why. Through the stories of his wife, my grandmother, and my mother; I was able to piece together parts of who he was. A story in which the decisions of one man completely changed the fate of generations who came after.
---
Lily Estella Thompson
Paoli, Indiana | Photojournalism major, Political Science and Journalism minor
INTERNSHIP
Center for Gifted Studies, Bowling Green, Ky.
AWARDS
Reinke Grant for Visual Storytelling, 2020
Second place, Hearst Journalism Awards Photojournalism II competition, 2020
Hearst championship runner-up and best single image, 2020
Third place and honorable mention, spots feature, Associated Press Photo of the Year, 2020
Award of excellence, general news, College Photographer of the Year, 2020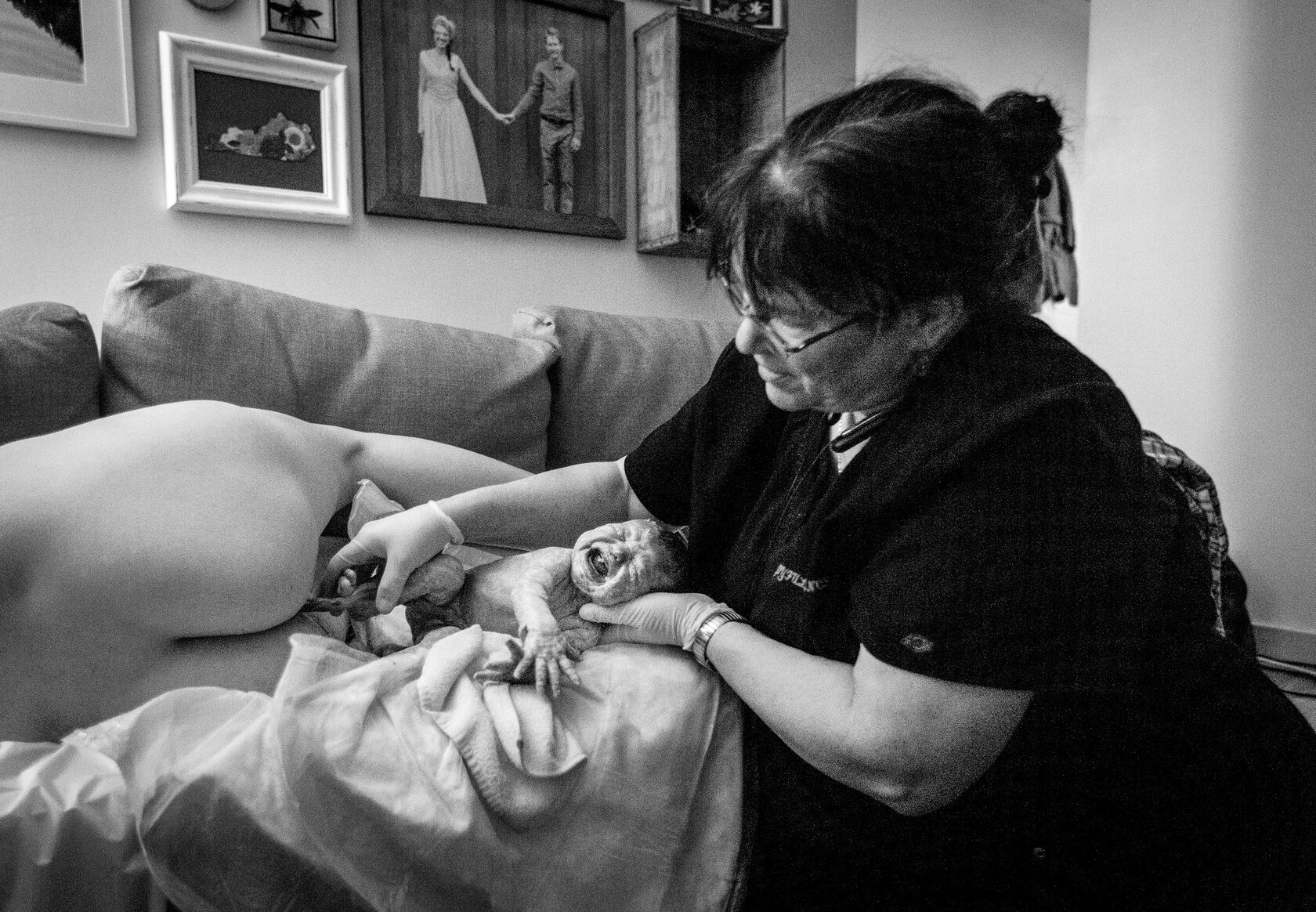 Tracey Moore is a certified professional midwife who has been performing home births for nearly two decades. Moore is one of few who practices home births in the Commonwealth, forcing her to travel all around the western and south central regions of Kentucky. She is based in Summer Shade, Kentucky, in rural Metcalfe country. Moore delivers June Hunt on Nov. 8, 2019. Moore's days are always different. In the last few years, midwifery has taken a much larger role in her life since her midwifery partner, who was more like a member of the family, abruptly had to leave their practice in early 2017. This left Moore to take care of nearly twice as many patients as she felt comfortable with. Shortly afterwards, Tracey suffered a miscarriage of her own at 52-years-old, she believes partly from the stress of losing her best friend and business partner and having to stretch herself thin to take care of all her clients. However, Moore persists. "I always had the heart for it, and then I saw the need for it," Moore said. "Too many women are run through the birthing machine."
ABOUT THIS PHOTO
This photo was quite literally the first time I documented life coming into the world. My midwifery story was a turning point for me— it was one of the first times I really felt like I could do this and that photojournalism life is for me. There are many moments and photos that I cherish, but this story is special to me. Thanks to Tracey for letting me be there, and thanks to all the other subjects who have let me into their lives over the years. The people I have met, whether subject, classmate, professor or coworker, have taught me so much more than a textbook ever could. That's the magic of WKUPJ.
ABOUT LILY'S TIME AT WKU
WKUPJ has meant the world to me. It's one of the few groups of people where I have ever felt accepted. I may not know every PJ super well, but I know I have a group of people who want to help me and see me succeed and I, the same for them. I am proud of everyone who I've met through this program and I am so happy that our paths crossed. The people really are the best part of this program. I learned so much, which is incredible, but it's the people who I really cherish. 
LILY'S AND CHRIS' CAPSTONE PROJECT
Love After Loss: A couple prepares and deals with the loss of their newborn daughter to Potter's Syndrome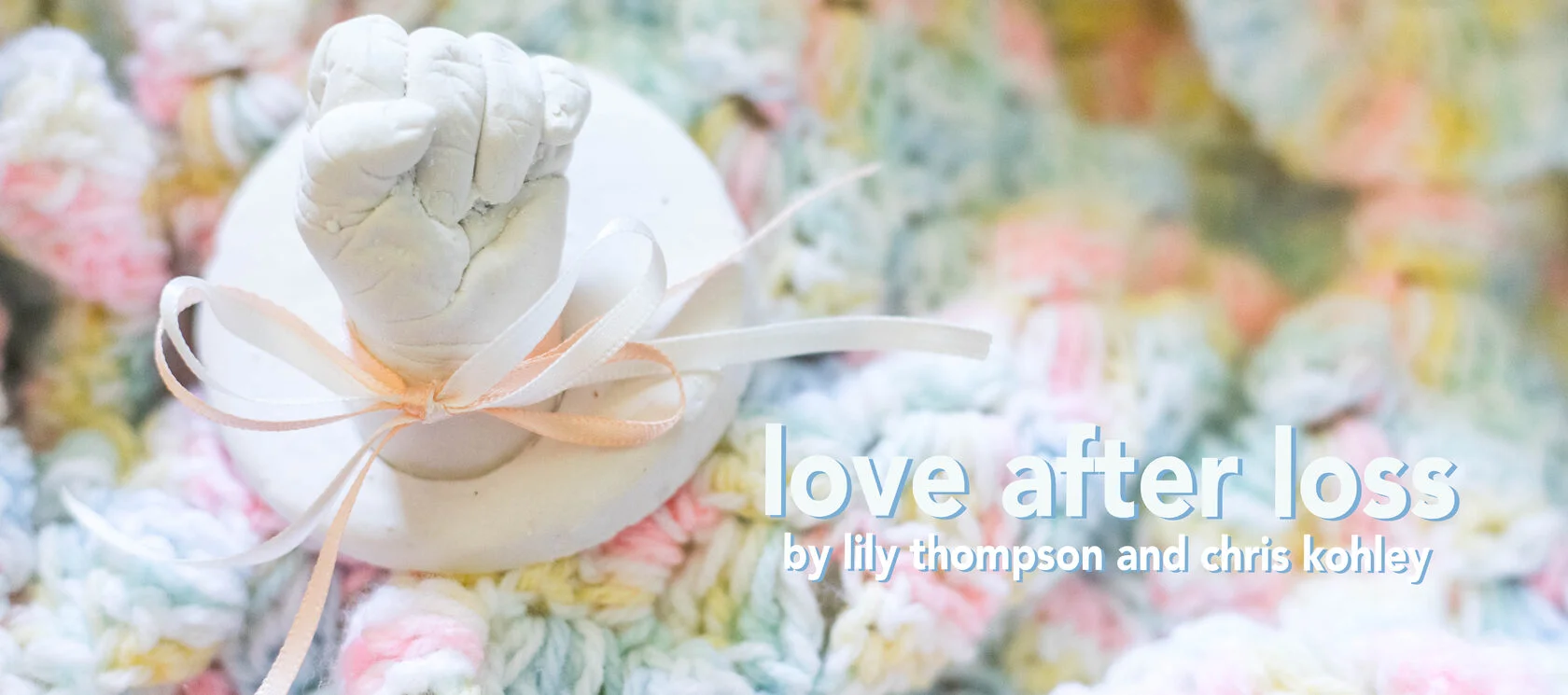 ABOUT THIS PROJECTKylee and Wyatt Weeks were expecting their first child, Naomi, in November 2020. Weeks before delivery, the couple discovered the baby would be born without kidney's due to the development of Potter's Syndrome. Kylee and Wyatt then prepared to deliver a child they knew would not survive.
Visit Chris' and Lily's capstone project
---
Hannah Vanover
Covington, Kentucky | Photojournalism major, Public Relations minor
INTERNSHIPS
Beech Tree News
Ment Cowork
Ohio County Times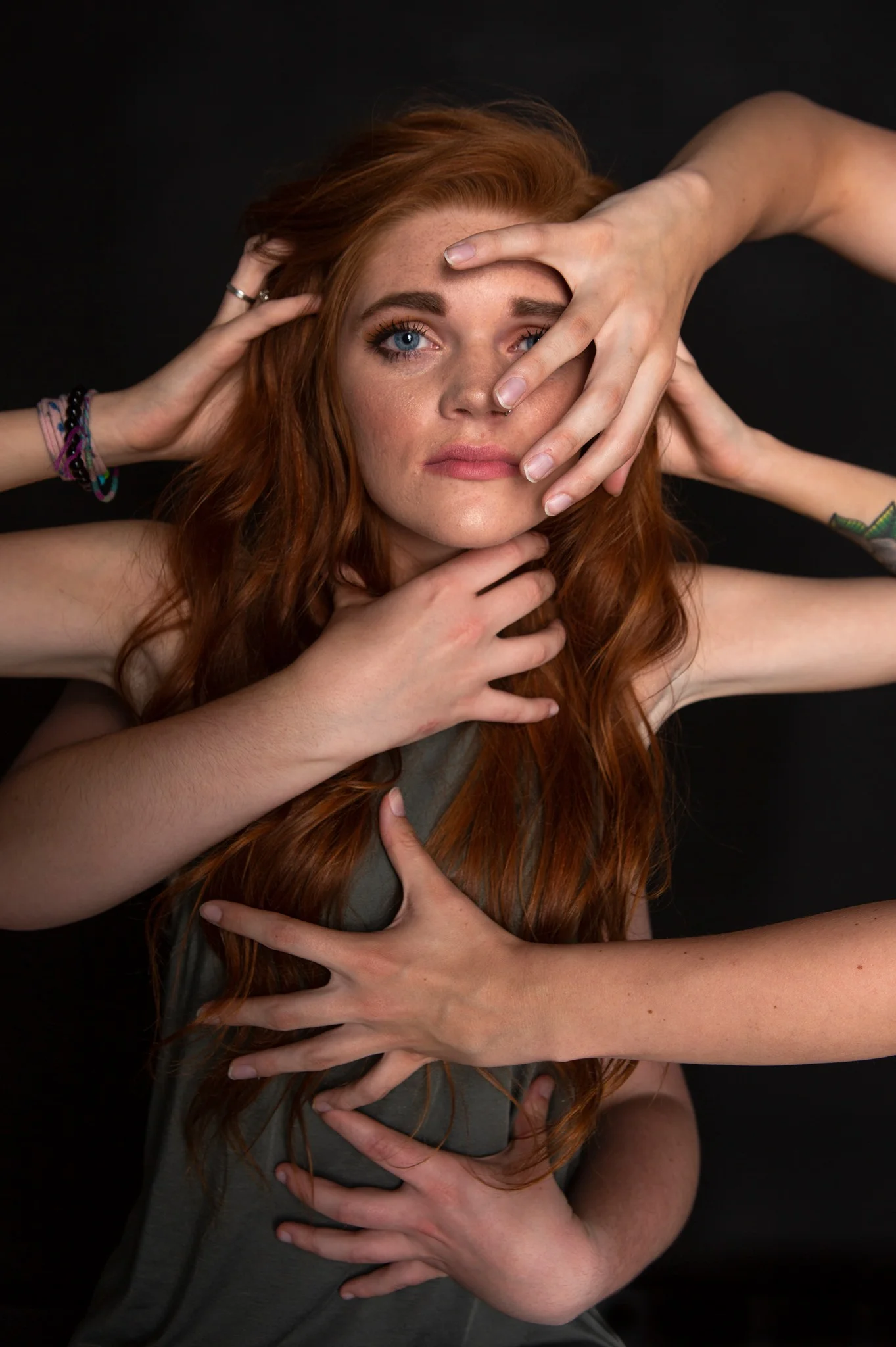 ABOUT THIS PHOTO
This image was taken as part of a final portrait series in PJ lighting class on invisible illnesses. This project was very close to my heart and it meant the world to me to have so many individuals open up about their struggles and allow me to visually portray their pain. I became very close with my photo subject, Kaytlin Morgan, and enjoyed being able to photograph and get to know her before and after this shoot. Kaytlin, later that summer, died unexpectedly and it was the first time that I had to experience the loss of not only a photo subject, but someone that I called a friend. The memories and photos that I have of her will forever live on and I am so thankful that life brought me to her.
ABOUT HANNAH'S TIME AT WKU
I have come out of my comfort zone and done things I never thought I would have. This program has truly become a second family to me and I've enjoyed being around so many other people that share the same passion as me. I'm grateful to have been able to build my portfolio and receive so many opportunities. Thank you WKUPJ 
HANNAH'S CAPSTONE PROJECT
Invisible: Uncovering the reality of hidden illnesses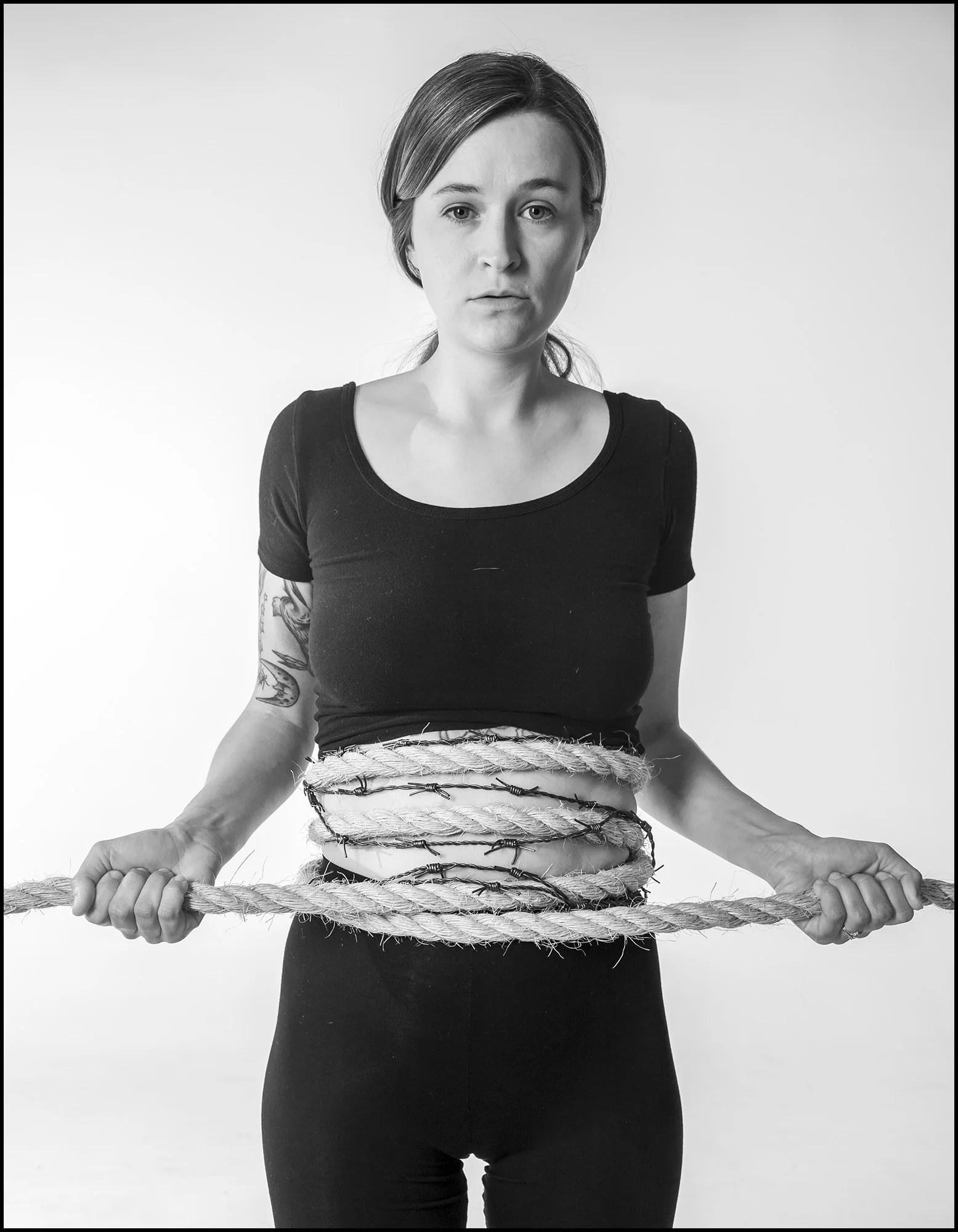 ABOUT THIS PROJECT
Invisible. Stigmatized. Misunderstood. Many are fighting a health battle seemingly unknown to those around them. Invisible illness takes many forms and they look and feel different for each individual. What do these people have in common? The need to feel seen, heard and understood. The chronic illness community will be shown in a different light – one that allows those with invisible struggles and feelings to become visible.
Visit Hannah's capstone project
---
ALL IMAGES AND VIDEOS COURTESY OF THE MEMBERS OF THE 2021 SENIOR CLASS
Photo and video materials belong to their owners and are used for exhibition purposes only. Please do not use them without written permission.